Gryphon during T.H.E Show Newport 2018. This was our first foray into Fine Art meets High End Audio - we ended up with the prettiest room and a beautiful space to relax & enjoy the finest sound quality that Gryphon can offer.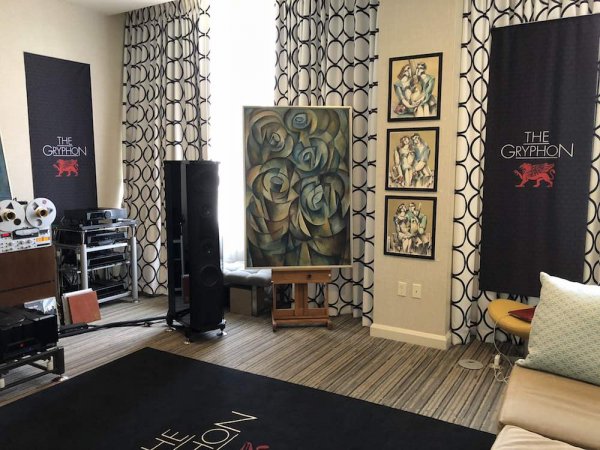 Gryphon during CEDIA 2018 in San Diego.
We teamed up with
Moso Art Gallery
to experiment with Music meets Fine Art; more specifically the audio art of Flemming Rasmussen meeting the visual art of Yuroz. We tried this first with some success at T.H.E. Show Newport, then during CEDIA and most recently, last weekend at Moso Art's Gallery at the Art District in downtown Los Angeles last weekend.
System comprised:
Gryphon
Pandora preamp.
Antileon EVO stereo amp
Scorpio S CD player, used as a transport,
Kalliope DAC
Pantheon speakers, connected with VIP speaker cables
RevoX / SonoruS PR99 playing a selection of Tape Project & Horch House 1/4" 15 ips, 2 track tapes.
Truthfully, I haven't played tapes in a while & had forgotten how amazing they sound. My first time hearing them on a Gryphon system with separates. Many listeners concurred that the Pantheon play much larger than their size or price. The drum skins on
Saxophone Colossus
were so tight; the acoustic bass was big & chunky.
Read the Part Time Audiophile review
here
Joe Cali brought along his laptop and played some of his stellar Lori Lieberman recordings played back directly from ProTools into the Kalliope DAC - sounded superb.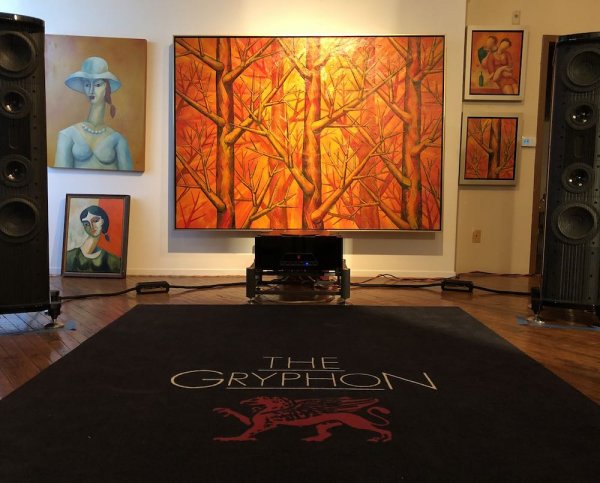 This last weekend, we tried a similar event at Moso Art's Gallery in the Art District of down town L.A. We were curious to turn art lovers, who were also music lovers on to high end sound quality and allow them a more enjoyable music experience. Arnold Martinez from Tweak Studio was our dealer in residence for the weekend. Arnold is an adrenaline loving audiophile & great company. Arnold set up the system using the paintings to diffract the sound, he did a wonderful job - thanks.
A HUGE thank you to Pandora Pang for opening up Moso Art for the weekend and schlepping the art work to Newport & San Diego for the Shows. The Yuroz art is superb & definitely enhances the listening environment.
Last edited: