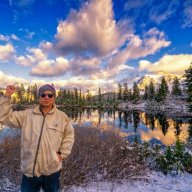 Dec 9, 2018
1,470
1,300
245
63
I started with ADS bookself driven by Fisher integrated, Garrad turntable at 1978 (45 years ago).

My best 5 speakers are

1. Scaena 3.2 (2022 to present) Least distortion using line arrays of multiple drivers with wide and deep soundstage.

2. Lansche 4.1 (2006-2021) but in the attic now
Plasma tweeter give nice vocal sound with also nice bass up to 20 hz due to active driven two 10 inch woofers.

3. Apogee Duetta Sig( 1989-1999)
I shall not had let it go. Just one of the most musical sound driven by Krell KSA 150.

4. Altec A7 (2021- present)
Nice sound but after I got Scaena, I use only basshorns for 180 hz and down.

5. B&W Notilus 801 (2000-2002) driven by Jadis 500 gave the most powerful bass in my listening room.

But Jadis 500 gave too much heat during summer time, I let them go together.


6. Avalon Ascent II also sound musical.

The worst one in my room was Wilson Watt Puppy 4 which sound so bright that I let it go only after 6 months on 2000.

If I had DSP, I could have tamed the sound.
Last edited: