Given the dominance of digital and all the new high end widgets showing incredible super powers perfecting "The Perfect Sound Forever" what's the current resurgence of vinyl and turntables about? At every show one can see a plethora of new and old tables, arms, cartridges, phono stages, etc. in every price point, even more choices than the hey days of analog, why? Among other things audiophiles tend to be incurable tinkerers with busy hands, and share similar gear oriented hobbies like photography where one can tinker and have endless discussions about nothing too. I get it and Records can be become the tinkering audiophile's ultimate fetish toy.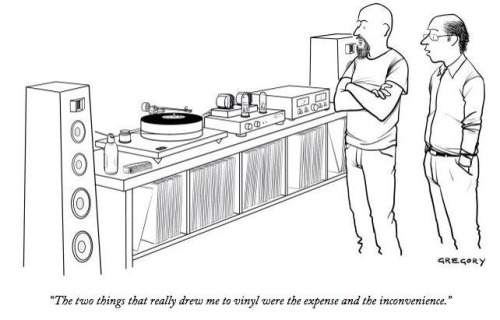 What about the unimagined appeal of LPs with the "i" generation? You can see it at Urban Outfitters, a Mecca for the "i"s.
Fad? Definitely for some but the prevailing reason behind the sudden vinyl renaissance or abundance is simple and basic economics. The silver disc is on its way out and the cloud transformed the digital business model diminishing profits. The same corporations who force fed us "the perfect sound forever" crap are now back to vinyl to bolster their lost sales and get the consumer back to physical purchases of their music. For the most part these are vinyl pressings of digital masters and irrelevant to the focus of this forum is ANALOG. More specifically about Reference Turntables as it relates to ANALOG recordings.
Steve & I discussed the subject and this being "What's The Best" Forums by definition these Turntables will be limited to a few ultra high end ones and couple that are even beyond that. There won't be any reviews or comparisons made, imo it doesn't serve a purpose here. While presentation is different individually any of these turntables is capable of recreating the intent of the original event as captured in the recording. Not as a messenger of but a conduit to. Their "Nature" and "Natural" abilities as a conduit is what sets them apart from the crowd and from each other. For everyone's appreciation I'll attempt to define "Natural" as we progress in the series.
The Reference Turntables described in the series are from my own collection, the ones I settled on after many years as the best conduits to the original event. This forum isn't about me or my system or anyone else's! Nor is it about the platform wars, I'll happily engage anyone in other forums. I want to share and raise awareness of these machines and their musical experience. I'm hoping for others here who I know have some of these turntables to chime in with the same spirit.
Friendly participation is encouraged and welcome! I'll try to answer relevant questions along the way the best I can. Time permitting I hope to add a new Beyond Turntable installment every 2-3 weeks mixed with related topics until we're done with all 5.
In no special order my top 5 Reference Turntables that I found to perform at levels Beyond what most of us recognize as high end;
- 3 tables from Micro Seiki, SX-8000, SX-8000II, SZ-1t
- Thorens Reference
- Goldmund Reference
- EMT 927
- The American Sound
I want to give credit here to my friends and mentors Vladimir Lamm and George Walker for opening my horizons.
Enjoy!
david
Last edited: