Is it really possible to simply "destroy" a room mode? I mean like I waived my magic wand and that
nasty
13db peak at 24hz just disappeared into thin air? Yes, it's possible.
I wanted to show a quick measurement just to demonstrate how a very nasty room mode can be eliminated. Why would I call a mode "nasty?" IME, any room modes below about 35hz really cannot be reduced with any kind of room treatments. Okay, maybe if you built an enormous Helmholz resonator into your wall, it could be reduced. But anything else? Nope. There are NO off-the-shelf room treatments which will touch it.
One of two ways to deal with such a nasty mode is to use EQ. Of course, that can make a big difference. But I want the "best" solution on whatsbestforum. RIGHT?
I had some free time to measure my jl audio subs lately and I wanted to share something I think is pretty cool. I wanted to see how much I could reduce a 1st order axial room mode (one half wavelength) without using ANY DSP or room treatments. Normally, my system uses DSP, digital crossovers, four strategically placed subs for a total of 6 channels in stereo listening. The following measurement is
NOT
my normal system measurement. I say this upfront, because I know somebody will post something like; "man your system sux. I mean your bass is all over the place."
The bass measurements in my room are very flat at the seated position once everything is measured together with DSP, delay, digital crossovers and four mono subs. The following ONLY show two subs.
The concept of room mode cancellation is not new. All mathematical modeling has been done many years ago by Welti and written about extensively by Floyd Toole in his Sound Reproduction books. The following is a REW plot which shows three measurements in my room. I've labelled all measurements so the graph is pretty much self-explanatory. These are unfiltered measurements all at the same seated position with very close to the same level (I had to reduce the level to compensate for the two subs together measurement). There are only two subs used for this purpose (my system has a total of four subs). My room is 24' long. My room has a 1st order (half wave length) axial room mode at 24-25hz. All four of my subs exhibit the same 13db peak at 24-25hz when individually measured. My subs are spaced one quarter width on the front and backwalls. This is a "very good" configuration according to Welti's models.
To eliminate an odd order axial mode (eg. 1st axial mode), only a pair of subs used in opposite polarity together are needed. In this case, I used the front right and rear right subwoofers run in opposite polarity to demonstrate how this works.These measurements aren't using any EQ or time correction, so they would look MUCH better after correction. The 24-25hz 13db peak is totally eliminated when both subs are measured together in opposite polarity. That is, the axial mode is reduced by about 13db due to this combined subwoofer mode cancellation setup.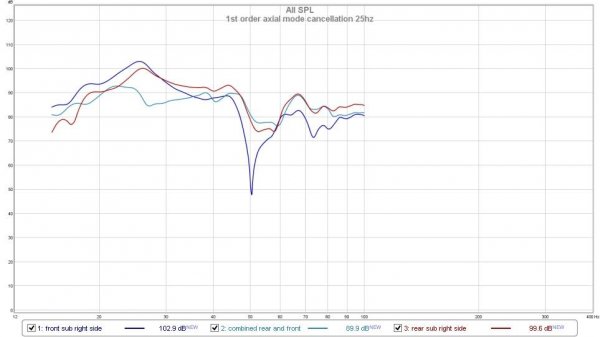 I didn't post the decay plots, but things are very much cleaned up at 24hz. The time domain looks MUCH better there. Also, the even order modes weren't really increased using this method. If I had run both subs in the same polarity, the odd order mode would have been increased. That is, the 1st axial mode would be even bigger. I didn't post that plot but I did measure it; trust me I'm a lawyer.
Last edited: