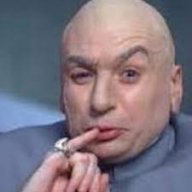 Site Founder, Site Owner, Administrator
Mar 31, 2010
42,967
15,304
6,105
...I have a three position recliner.
1) Normal/upright chair. Suitable for scrunched-forward and/or hunched-over audiophile-intense listening. The least fun option.
2) Foot-rest kicks up, and back tilts a wee bit. Invaluable for whiskey-augmented listening. Most fun option.
3) Full-kip position. Almost horizontal. Best utilized when no interruptions are forecasted from Sweetie or the dog. Often engaged shortly after "augmented" listening segment (see #2 above). While not perfectly optimized for SQ, sound is still excellent, and the resultant restive delirium more than makes up for the slight reduction in high-frequency reception. Most transcendental option. Highly recommended!
I'm not a fan of recliners. Leaning back to listen for me is abnormal plus the back of the chair rises above shoulder level. You don't know what you're missing until you listen with a chair where the back never is above shoulder level