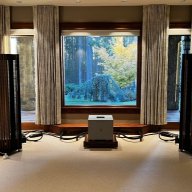 Jun 7, 2014
1,569
2,679
550
I'll tell the tale of my return to Hi-Fi later, but here's my latest:
Last year, about this time, my wife was told she'd worked her way out of a job, but there was a position in Portland they wanted her to take. I got the news, and a "Honey, I'm going to be living in corporate housing in Portland while you sell our house and find us one in Portland." So after much trial and tribulation, the moving crew arrives the first week of December last year (2013). They take week to pack our home, and since I run my business from home, they get a second van to pack the garage. Late on a Friday night I'm scrambling at the old house to clean up and the movers are going to come back Saturday morning, pack the last inventory (temp sensitive and the weather was below freezing) and head for Portland. As we lived in Redmond, WA, it is only a 3-4 hour drive.
Back in Portland on Saturday morning, we're expecting the moving crew. I get a call close to noon, and was informed the van that had the garage contents was stolen in the middle of the night. They decided to pack the last of the contents Friday night, then headed south, only to stop after 40 miles to sleep at the motel. Evidently in the AM the drivers came out to find one of the rigs gone. Did I mention that in the garage, along with my business inventory, was my carefully packed Wilson Sashas and many other parts of my audio rig?
Months later, after endless BS with insurance company, they finally settle up. Turns out business items not covered in policy, so my little company eats a sizable loss. Ugh. But, I was able to order new speakers, so stepped up and got some Alexias.
In Portland, when looking for a home, a prerequisite was space for my music room. I looked at 36 houses. You get a quick lesson on home quality when you look at 36 houses. We finally settled on a nice home outside Oregon City. It was a former "street of dreams" home for the 2007 show, so it has a lot of spanky features. The lending market tanked, of course, in 2007 so the house was not sold for almost a year. Of course, the market continued to crater. I joke to my wife we got a street of dreams home for a million dollars off. The house has a nice space for my music room, which, finally will get setup next month. Contractors, decorators, and a long list of snafus and finally, the custom wool carpet for the floors will be in. I didn't want to setup and then have to take it all down when the carpet came, so I've had speakers and gear sitting idle for some time.
Here's an image looking forward towards where the speakers will be. Big glass doors on two sides, and a large 6' square window in the middle.
(I have some work to do on the other images, they're too big.)
Last edited: