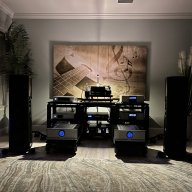 Jan 19, 2019
1,138
1,284
290
Delivery & Set Up
We enjoy quality music. I play it while I work all day in my listening chair. And then there are those few special hours where there is just the music and relaxing in utter bliss.
While I wish we could press a button and have the absolute best system (to my ears) immediately in our audio room, in reality it's a journey to put "the" right one together. And even with that we may change it down the road, as that is within the very DNA of being an audiophile. We are always on the hunt for what we consider is better!
While the entire audio chain matters, Amps will make or break a system.
The editor of Stereophile Magazine in 2021 stated, "Class A amplifiers differ sufficiently in character that each will shine in an appropriate system. Careful auditioning with your own loudspeakers is therefore essential." To that end, we've had several very nice amps circulate thru our system. Some from our dealer and others from those who are close audiophile friends. It's been a wonderful journey listening to the likes of Boulder 2160, EMM MTRX2s, MSB S500, Westminster REIs and others. They are each excellent in their own way. Each was unique as they brought a new high end fidelity to the sound of our system. They had a distinct but none-the-less very satisfying enjoyable sound. IMO, these are some of the better amps available today! (a subjective, not objective opinion).
While these sound terrific out of the box, the Vitus SM-103s will take 2-3 weeks to totally break in. Will the Vitus SM-103s surpass everything we've already heard? There will be more on the developing sound later.
*** these amps are ours to keep, or we can change to silver, app 3-6 months - still deciding *** Tough decision.
Here are some installation pics of our new amps …
Notes: The Vitus build quality is unsurpassed, over the top. Amp Weight is app 200 lbs each. Dimensions (app): H - 12.25" x W - 17.25" x L - 23.75".
Vitus SM-103 boxing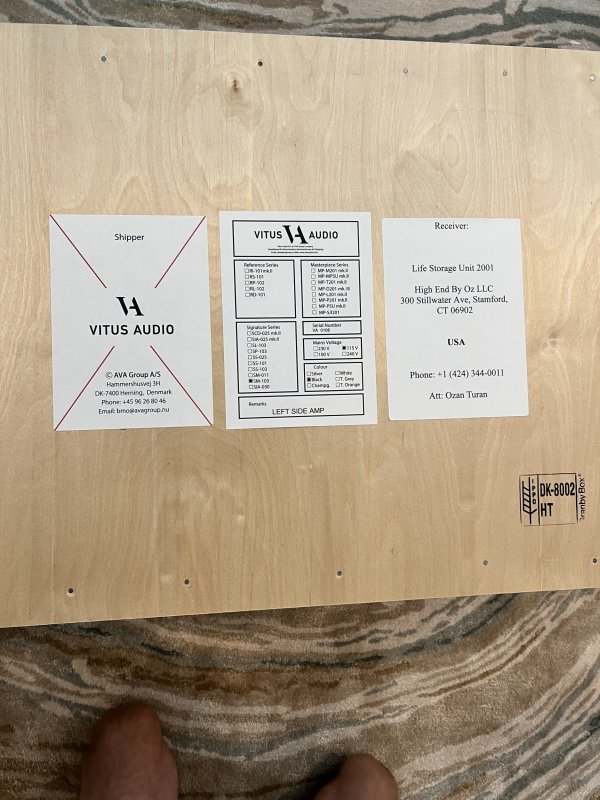 Tony of
Ellington HiFi
resting after installing first Vitus 103 mono (he had some help from Oz)
Installing Second SM-103
Top of Vitus SM-103 Mono Amp
Oz -
High End by Oz
- Connecting SM-103s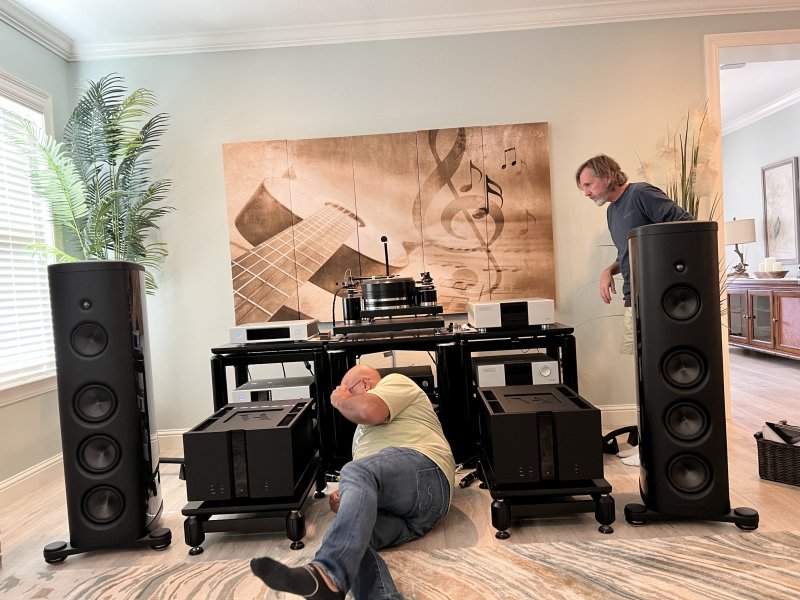 Vitus SL-103 Pre Amp - top right shelf:
Connected
Last edited: