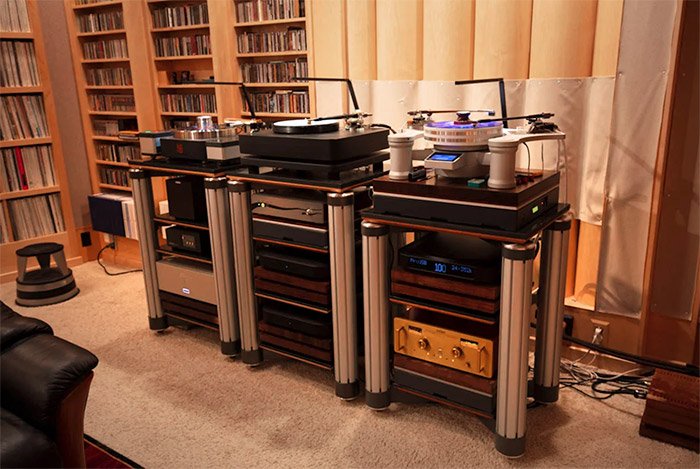 i've finished my digital push....and been working on a few odds and ends to fine tune my vinyl. had my 3 tt's for 3 years now, thought long and hard about consolidating the 3 into one 'big-boy' tt, but at the end of the day have decided that the three tt's cover state of the art vinyl rotating and so they are all keepers. i like what each does too much, and nothing else enough, to change. i will likely sell my 4th tt, the EMT948 i got a year ago, as i'm rarely listening to it.
a month ago i ordered the DaVa Ref (field coil) cartridge and did post about that. it's still approximately 3 months away. so May. it will replace one of my 3 Etsuro Gold MC's.
i've been working on a new tone arm for the last couple of months, and did finally order the 12" Primary Control FCL (field coil) tone arm last week. that's also scheduled to arrive in May. my initial plan was to combine the DaVa field coil cart with the field coil arm. but i've learned that is not a good idea. that arm/cart combo not synergistic. so the DaVa will be mounted on one of my Durand Tosca's. the FCL arm will then have one of my Etsuro Gold's.
right now, the plan is to mount the FCL arm on the Wave Kinetics NVS, and keep the Tosca on the Saskia with the Dava cart. but i will have arm boards for both arms, for both turntables. so i can play around with the best combinations. my goal is to have the best jazz/blues arm/cart combo on the Saskia, and the best classical/pop combo on the NVS to compliment the CS Port linear tracker for classical/pop. the Durand Telos which now has my Miyajima Infinity mounted will be moving on, and my other Tosca will now do both my Infinity Mono carts.
lastly; i have ordered today the EMIA Phono Corrector in silver, with 2 power supplies. it will hopefully be here in late April. it will replace my CS Port phono. once the DaVa cartridge arrives; Dave Slagle will work with me to identify the best SUT as a match for it, and Dave will then combine that SUT with a silver SUT for both Etsuro Gold's into an EMIA MC Trio. i'll trade my current pair of silver 1:10 EMIA SUT's in on the MC TRIO. so the Phono Corrector will service all three cartridges, leaving the mono carts for the darTZeel phono. the MC Trio will also have a mono switch, so i can use it for the mono's if i like.
to help pay for all these items, i'll be selling the EMT 948 with Durand Kairos arm, one Etsuro Gold, the CS Port phono, and one of my Studer A-820's (without the head switch and with 1/4" and 1/2" guides and head blocks) i have not been using. so there will be some pain, but not crazy amounts of it. it will be a few months, but i can ride off into the sunset once these things are in place and dialed in.
at least it's a plan. and checks have been written.
Last edited by a moderator: