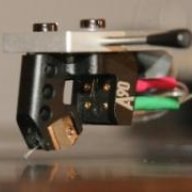 VIP/Donor & WBF Founding Member
May 6, 2010
5,910
423
310
For all interested - I have been astounded by the improvement of properly setting SRA around the optimal 92 degrees, and perfect azimuth as shown below... The geometry of the arm-cartridge is anything but appealing now, but the results are well worth it.
1) Proper SRA has dramatically reduced intermodulation distortion, which can be easily verified with large scale choral music - grainy choruses now sound extremely smooth:
If you were to look at the stylus with a 10x loupe, you'd see the end result, which unfortunately I cannot photograph.
2) Perfect Azimuth has expanded the soundstage and improved channel separation:
After setting azimuth correctly, the results can be verified by playing a 1kHz mono tone:
After these adjustments, I went ahead and realigned the cartridge with my Mint LP tractor again. The overall improvement is phenomenal. One of the more important decisions I made last year when I got back into analog was to get an arm that supports all these adjustments. I would now not be able to go back to any ordinary arm!