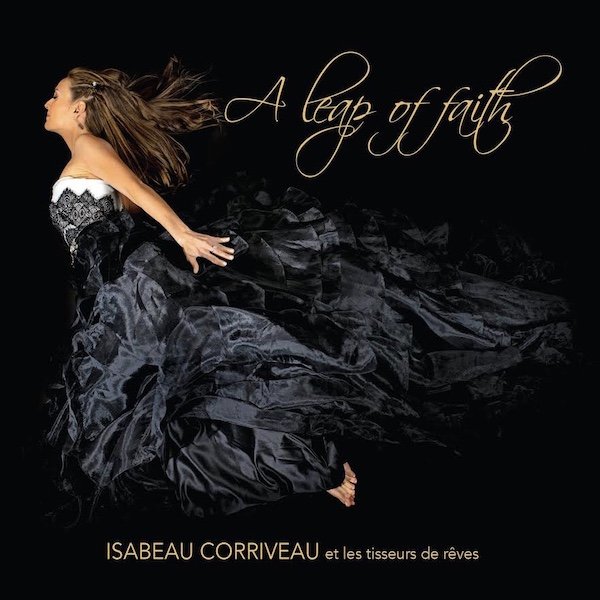 Isabeau Corriveau -
A Leap Of Faith
; this beautiful lady is a harpist, flautist, composer with a gorgeous voice. Her music style is principally Irish & British folk music but tastefully updated. Her seven-piece band play interesting & fresh arrangements of well-known folk songs. We used Blackbird on Demo XXII and also play Scarborough Fair at many HiFi Shows & Dealer Events; it's seen through the eyes of the female lover for a nice change. Isabeau is a wonderful singer, her voice beautifully equipped for folk and her harp is a welcome respite from the normal guitar.
During the CD / LP comparison, we were hard-pressed to find one format noticeably sonically superior to the other. We preferred the 2xDSD upsampling on the Ethos.
Both the music & sound quality are intriguing. Well worth seeking out as it's an album that will grow on you over time and reveal itself. I'm amazed that this album has sailed underneath the radar of so many music lovers.
Dominique Fils-Aimé's debut album
Nameless
. Musically & sonically this album is a clear 10-10.
She has a couple of terrific cover songs, Strange Fruit, made famous by Billy Holiday and
Feeling Good
. Otherwise, her own compositions are really strong; we played
Birds
(on Demo XXII) - I am at a loss for words, simply stunning.
Her lead vocals & backing singing are so interwoven: clever and a joy to
Hard to find on vinyl but well worth the trouble. This is a MUST HAVE album.
Lori Lieberman & The Matangi String Quartet -
The Girl And The Cat
with the LP played on the Bergmann
Galder
and the CD on the Gryphon
Ethos
. This is such a revealing recording that you can hear Lori breathe into her microphone on both the CD & LP. The strings are glorious and both plucked & bowed strings have a rich, dense texture. In this comparison, we felt that the LP was richer, fuller with a better-developed midrange and more palpable presence.
You can read Michael Fremer's review of this album
here
. Pandora's interview
here
.
Ray LaMontagne -
Monovision
.
Ray LaMontagne takes the simplest & probably most difficult approach to "MONOVISION," his eighth album. Solo work in the truest sense of the term, Ray LaMontagne played all the instruments, wrote the songs, and even engineered and produced this 10-song collection.
MONOVISION
revels in its own nostalgia, existing as both a time travel to the folk and Americana of the late sixties and a timeless, gentle 2020 offering that harkens to simpler days. It's a warm, relaxed sound that is sure to find many sympathetic ears over the coming years.
Ray LaMontagne borrows influences from some of the best: Neil Young, Van Morrison & John Denver - I'm grateful that his delivery is not as saccharine as John Denver. Still it's a light & sweet dessert, wonderful for a late-night wind down. Sound quality is as superb as any album we have come to expect from Ray.
I've already selected "We'll Make It Through" for inclusion in next year's Demo XXIII.
Mavis Staples -
Live in London.
This album captures Mavis Staples live at the Union Chapel in London with her band performing some of the greatest songs from her musical catalog while celebrating her 79th birthday.
Live in London
deliberately dodges a few of her signatures—"I'll Take You There" and "Respect Yourself," the Staple Singers enduring crossover hits from the early '70s are nowhere to be found. Instead, she draws attention to the four records Staples made after Ry Cooder's
We'll Never Turn Back (2007)
. The journey begins with the Jeff Tweedy-produced
You Are Not Alone
—the 2011 Grammy Winner for Best Americana Album—and the end of the road is 2017's
If All I Was Was Black
. Surrounded by songs written by Tweedy, Justin Vernon, and Ben Harper, Talking Head's "Slippery People" acts as a reminder that Mavis Staples never resisted incorporating the latest rock or pop fashions into her gospel-inflected soul. If you are looking for live versions of "I'll Take You There" and "Respect Yourself," look elsewhere -
Live: Hope at the Hideout (2007).
Small peeve - why only three sides on vinyl ? Musically & sonically, well worth checking out.
Anne-Sophie Mutter, John Williams -
Across The Stars
, 2 LP
John Williams And Anne-Sophie Mutter, 2 Geniuses For The Price Of One
(Courtesy of NPR)
"Mutter met Williams at Tanglewood, the summer home of the Boston Symphony Orchestra, a few years ago, and politely begged him to write a piece for her.
"She said, 'Write 10 bars — 10 measures of music. That's all you have to do. Just a little portrait,' " the composer remembers. "The summer ended, and Christmas came, and a box of Christmas cookies arrived from Germany from Anne-Sophie. I thought,
Oh my God, I have to make 10 bars of something for this lady.
She's many things, but one thing she is not is a woman you can say no to. And the 10 bars became 140 bars or so, in a piece that I call 'Markings' — read 'scribblings.' "
Sometime later, over dinner, Mutter suggested doing a whole album of new arrangements of Williams' famous movie themes for solo violin and orchestra. The result is
Across the Stars
, on Deutsche Grammophon, which features hits including "Hedwig's Theme" from
Harry Potter
and "Yoda's Theme" from
The Empire Strikes Back
, as well as deeper cuts such as themes from
Cinderella Liberty
(1973) and
Dracula
(1979).
The classical world has always kept film music and its composers at arm's length or treated it with outright disdain. Williams has done more than anyone else to legitimize the art form in those hallowed halls, both through the sheer quality of his writing and his ability to adapt film music to fit the classical format."
Sound is of demonstration quality. Music utterly enchanting. What are you waiting for ? Buy it.
Happy listening. Philip