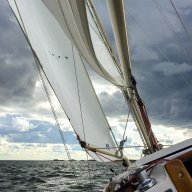 Dec 7, 2011
10,268
7,725
1,565
There was some interesting discussion on the recently shut down power cable/bass performance thread. It has me wondering if my particular approach can be improved. I currently have three dedicated 20 amp circuits with three runs of JPS Labs In-Wall AC cable running directly from the panel, through the floor, and terminated into three Furutech IEC connectors. Two of these connectors are plugged directly into my amplifiers and the third goes into my Transparent Audio AC distribution box and then Transparent PCs to my front end components. This approach avoids all wall outlets with their extra connections, and I found the noise to drop significantly ten years ago when I first did this.
I would like to further reduce the noise of my system and improve the power delivery. Here are some of the ideas I am considering:
1. Buying a new JPS Labs In-Wall cable so that all three lengths match and terminating them with the latest/best Furutech FI-50 NCF IEC connectors and plugging them into my two amps and Transparent distribution box. Currently, the run to my rack is shorter in length than the two going to my amps, creating a potential ground loop issue, though I have very little hum.
2. Installing four new Furutech NCF outlets connected to three separate dedicated 20 amp circuits and using power cables to connect to my equipment. One to each amp, and two (four outlets) to my front end rack components.
3. Installing a total of five new runs of JPS In-Wall cables of equal length from five separate circuits plus five Furutech NCF IEC connectors to plug directly into my five components bypassing the Transparent distribution box and all outlets, thus minimizing connections and creating the most direct AC path from panel circuit to component.
Basically, I'm wondering if bypassing outlets and plugging directly into the components is preferable to high quality outlets and power cords. I am open to any and all suggestions that anyone might make. At this point, I am leaning towards the notion that simpler is better because I have had success with that approach in the past. I am not quite ready to experiment with lots of competing power cords to see if they sound different, or audition the latest Shunyata Denali or various grounding boxes to see what they might do i my system.
Here is an old photo showing the red JPS cable coming up through the floor plugged directly into one of my amps.