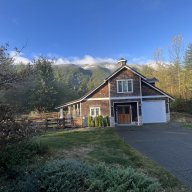 Member Sponsor & WBF Founding Member
Apr 25, 2010
12,172
10,587
3,510
MY QUESTION: CAN YOU STACK THE BASS TOWER SO IT IS 3 OF THE 4X7" CONES ON TOP OF EACH OTHER? I am concerned about having 6 speakers in a room...4 is already quite a lot of room.
since my answer to you was incomplete, i left out important things, i'm going to expand my answer to this part of your comment.
there are good reasons for more than one subwoofer tower.
when dealing with subwoofer towers outputting under 50hz, having twin sub towers flanking the passive main tower is preferrable to a single outboard tower as sonically it's more balanced relative to the other frequencies. and extending the tower higher, assuming the room can handle that, is also preferrable since the individual bass sources are more distributed and so the room nodes are reduced. single subwoofer towers are what you see since it's more practical and cheaper, not due to any performance advantage. and we are use to seeing it that way. triple towers requires our comfort zone to be expanded.
seeing a system designed from the ground up with multiple bass towers is different.
and an advantage
.
and remember, the Evolution Acoustics SYSTEM approach is a single speaker system, not pieces. the main tower is rolled off at the bottom, matched to the slope of the bass towers, and the bass towers get their signal from the speaker terminal of the main towers. i'd put the coherence of my MM7's up against
any
full range speaker system anywhere for coherence. and the new SYSTEM is no different in that way.
Last edited: