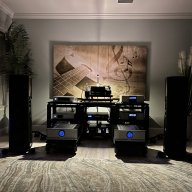 Jan 19, 2019
1,042
1,175
275
Some last words in what I'm hearing,
EMM products are sleeping giant slayers. They are something very, very special - exceptional. They are well-designed functional pieces of art.
The EMMs drive the Magicos M3s (rated at 500w ea.) with absolutely no effort at all. They reveal everything. They have a smoothness and balance I haven't heard (yet) in some other high-end amps. Similar to the Pass amps they have a tube-like dimensionality, but they are more detailed and pronounced.
The soundstage is three-dimensional, full and exceptional. A new level of stratospheric enjoyment. The separation of the instruments is quit evident; a halo of energy around each one in the performance. The sound image is densely packed with detail, that's crisp, pure, clean, and involving. The system conveys the subtlest spatial cues. There's layer upon layer upon layer of emotionally rich sound.
The sound is natural, real, and genuine. Authentic! A reach out and touch me experience. On female vocals you can hear the subtlest inflections of the notes and lyrics. Ah, the absolute beauty of a delicate but commanding human voice. You can hear the piano keys with a crispness and purity. The upper octaves are tremendous. Violins have never sounded so eloquent; velvety strings, a richness and warmth with phenomenal detail. You haven't heard Joshua Bell, Nicola Benedetti, Sarah Chang, or Julia Fischer until you have heard them thru MTRX3s and Magico M3s. Stunning!
There's no coloration. However, there's beautiful high resolution. This isn't a clinical sound, but an emotionally involving one. It's wonderfully analytical - yes detailed, but so very musical. It's immensely enjoyable. As Berlin sings, 'Take My Breath Away."
There's a more refined grip on the bass that isn't present with many other amps, including Pass. Don't get me wrong, the Pass are very good (and their synergy with the Magicos excellent), but the EMMs are just unsurpassed so far to my ear. Magicos have plenty of bass! They aren't not boomy, but blissful. With the proper amps ( and everything else, the whole chain matters) definite slam when the music requires it.
The midrange detail is absolutely stunning. Shelby Lynn's "Just A Little Lovin'" is so engaging. WOW!!! On soft rock, the edge of the electric bass guitar is visceral. There are rich timbres thru-out. Drum attacks make me jump at times - surprisingly real and startlingly. Chris Botti on his trumpet playing "Ave Maria" is breathtaking. And Richard Elliot and Paul Taylor on Sax is just "burnin'."
Overall the EMMs are more neutral and accurate than the Pass. As with EMM's exceptional DAC, there are just layers and layers and layers of marvelous wondrous musical detail. Warmth, smoothness, and dynamics. There's no noticeable noise or distortion. Everything is so clear! You get the feeling that there is limitless power reserves. There is a dynamic ease unlike any other amp I've heard. There is a definite leap in sound from the Pass to the EMM - a Grand Canyon leap.
These amps need to be heard to be fully appreciated.
Pros:
Musical
Emotionally Engaging
Pure Rich Authoritative Sound
Excellent Power (including reserve power)
Tube-Like "Perfection"
Venue-Like Performance
Unforgettable Highs
Excellent Mids
Exquisite Bass
Unbelievable resolution
Tremendous Soundstage
Beautiful Fit & Finish
Cons:
Heavy (180 lbs ea.)
Huge
Special Electrical Setup - manual says, "For maximum power each MTRX2 should be configured and installed on its own dedicated 230-240VAC circuit."
While you can turn off the blue lights during listening, you can't turn off the red lights (which means "off"). You can turn them off using the circuit breaker on the back of the amp, but that means they are no longer in stand-by mode. So they will take longer to get their Magic back.
These are some tremendously resolving amps. Their synergy in our system is the best we've heard to date. We still have some other amps to try. So we should know something in the next few months. Along with Pass, the EMMs are on our list.