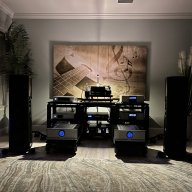 Jan 19, 2019
1,138
1,284
290
Pictures to follow …

John McGurk of EMM Labs came over today with my dealer Tony of Ellington HiFi to make a delivery. We're evaluating the EMM Labs MTRX2 mono amps in our system. We have some other evaluations still to make - such as the VAC Statement 450 IQs and possibly one other amp (Constellation or Soulution). But during the next few weeks it's all about EMM Labs.

Ed Meitner knows audio. In numerous ways, he's been a pioneer. According to the EMM website, he worked with Sony and Phillips to refine what the unparalleled sonic purity of SACD players are now known by today. EMM Labs converter systems are the de facto DSD reference of the recording industry….

We've been most impressed with his PRE, DA2V2 DAC and TX2 SACD Transport. These are exceptional well-built products. They present a world-class sound - for us "the sound". EMM has the ability to make digital = analogue. They give you "A Ticket to Ride," i.e. musically they seat you in the actual venue. You're there!

The magical EMM Trio above enticed us to listen to the EMM MTRX2 mono amps. The synergy of the above Trio is so amazing that we had to hear what a compete EMM system had to offer.

This initial comparison will be with the Pass 260.8s which have a perfect synergy with the Magico M3s. At only $14,250 they are absolutely amazing in our current system. They are an exceptional value, and any other amp will be a hard sell. Nelson Pass knows amps as well.

The EMM MTRX2 monos are listed at $85,000. So, what does one receive for an extra 70K? My answer will of course be my own opinion. Though I'm not going to repeat numerous times the abbreviation "IMO" please understand it's implied. This evaluation is based upon my own listening and experience. And warning, proper reproduced music stirs the emotions, so expect some majestic adjectives!

Both the EMM and the Pass are Class AB amps. Since I live in FL, I don't desire pure Class A amps - way too hot! However, our Pass' are Class A to 34 watts. They've never been out of Class A. As most know it doesn't take that many watts for a system to sound exceptional. But having more power on hand is very important as well. The Pass provides both.

The EMMs are 1000 watts into 4 ohms as compared to the Pass' at 520 watts. Each EMM amp weighs 180 pounds vs the Pass' at 100 lbs each. As with all Meitner products the fit and finish is exceptional. These are fine pieces of art! .

The EMMs are fully balanced from input to output. The main power switch on the rear of the unit isn't a mere rocker, but a circuit breaker switch. The regular power switch is on the front of the unit. These specific amps that are being presently evaluated are designed for 20A breakers, but if we purchase new ones they will be with a 30A (dedicated lines). In addition to what you normally find on the rear of an amp of this quality there's also a RS-232 Communication Port and USB Communication Port. It has Furutech binding posts.

Our tests are being done with the following equipment: Magico M3s, EMM Pre, DA2V2 DAC, TX2 SACD Transport, Aurender N30SA (streamer), ACS10 (ripper/storage), VAC Phono Pre and a J Sikora Standard Max Line TT with two KV12 Tonearms equipped with an Airtight Opus1 cart and a MSL Signature Platinum cart. The amps are connected to Kimber power cords which are connected to two dedicated circuits. There's a full loom of Shunyata on the other components all run to a Shunyata Everest which is connected to a third dedicated circuit.

We are using a variety of music ranging from classical, to jazz, female vocals and soft rock. Vinyl, SACD/CD, and Qobuz.

The EMM monos are already broken-in, but they require settling time which takes approximately 72 hours. I've lived with the Pass amps for over two years now, so I'm very familiar with their sound signature. They are great but have I been missing anything?

Some pictures will follow, but more comments will take a few days.