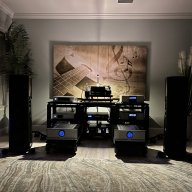 Jan 19, 2019
1,138
1,284
290
Jazz music
Today we've played exclusively Jazz music and mostly Vinyl. Among the titles, Dave Brubeck's, "Time Out," John Coltrane's, "Blue Train" and "A Love Supreme," Miles Davis', "Kind of Blue," "Sketches of Spain," and Miles, "Miles," Bill Evans', "Trio '64," Stan Getz's, "Getz/Gilberto: 50th Anniversary," Charles Mingus', "Mingus Ah Um," and many others.
I enjoy saxophones. It's one of my favorite instruments both on and off the stage. (see pics below). I enjoy Paul Taylor's modern jazz sax albums, but also various older artists. However, Jazz includes more than just saxophones. It includes a whole array of instruments, tones, and sounds. Hearing these properly arranged can be exceedingly pleasing.
With EMM MTRX2s and Magico M3s Jazz takes on a flavor above what one normally hears. It's real and genuine. Wonderful details are unveiled. The sound penetrates your entire being. The drums on "Time Out," are so impactful. The Magico bass excels with the MTRS2s. On "Mingus Ah Um," the sax is so refined and musical. On Saxophone Colossus, Rollins skills shine more than ever and Watkins on bass is just magnificent. Who doesn't like Miles! On "Britches Brew" the sound of the trumpet and the soprano saxophone sound like you're at your favorite Jazz Club - but the soundstage has been transferred to the concert hall. It sounds larger than life.
There's still that air or energy around the instruments which makes the listening experience magical, transcendent, and transforming. MTRX2s give you analogue tube-like sound. They are exceptional.
Pros and cons will be listed sometime hopefully within the next week.
I celebrated a great vinyl session today by ordering 15 new albums - mostly jazz … For us there's nothing like the sound quality of vinyl …