May 19, 2010
713
237
495
68
Continuing the saga of my Audiophile Journey, in 1994 my first wife Marilyn and I moved from our Winfield condo into a brand new SFR down the road a couple of miles in West Chicago. Since this was a semi-custom home I got to design an audio room in the basement, including walls and electrical service. Although Marilyn passed away in 2010, I lived there until 2014, a full 20 years. During that time for several years together we had not only the main audio room in the basement, but other full audio systems in our kitchen, bedroom, and den and in the basement a computer audio system, a home theater, and a vintage audio system. After Marilyn passed I added an eighth system to my living room. This helps explain all the equipment I've owned over the years.
Here's a picture of move in day to my new basement audio room. As you can tell, I had a lot of Sonex:
The first speakers I had in this room were Caver Amazing Platinum Mk IV, which replaced my modified-per-Van-Alstine B&W 801 Matrix Series II just before the move. The Carvers were perfect for this room in terms of flat bass response and otherwise pleasing bass response. I would have kept them much longer if the ribbons had not kept blowing out. I loved loud orchestral power music at the time and was driving the speakers which bridged Audio by Van Alstine FET Valve amps putting out about 700 wpc. This had not fazed the B&Ws, but apparently was too much for the Carver ribbons. Fortunately Carver stood by his design and kept replacing them for free; I got very proficient at it and must have replaced each ribbon at least four times before giving up and moving on to other speakers. As you can tell by the following picture, sometimes I used my Sonex wrapped into cylinders to form a poor-man's Tube Trap:
My dad passed away in 1995. Not only did we wisely use part of my inheritance to pay off our mortgage, but I unwisely spent $50k on an all-Cello (the company headed by Mark Levinson the man after he left the company with his name in the hands of others) system. Try as I might, I can't locate any pictures of that system, but it included Celo Stradivari Premiere speakers, the Cello Reference DAC, a specially modified Marantz Pro CD transport, the Cello Palette Pramp (on the beautiful clear acrylic Cello audio cart), the Cello Duet 350 power amp, and all Cello Strings balanced cabling and tri-wired speaker cables. It was a thing of beauty and sounded darn good as well. That was my second "one brand" component audio system, the first being an all Audio by Van Alstine system during our condo days, the speakers being those modified B&Ws which Frank Van Alstine used to voice all his equipment from that era.
The first part of the break up of the all-Cello system was trading the speakers for the Legacy Audio Whispers. The Whispers, like the Carvers and other dipole-bass speakers, produced very flat, even bass in my difficult concrete bunker basement room. The Whispers, in hindsight, were one of the speakers I wished I'd held onto longer. I wrote my first published online review of the Whisper speakers in 22
StereoTimes
in 2000.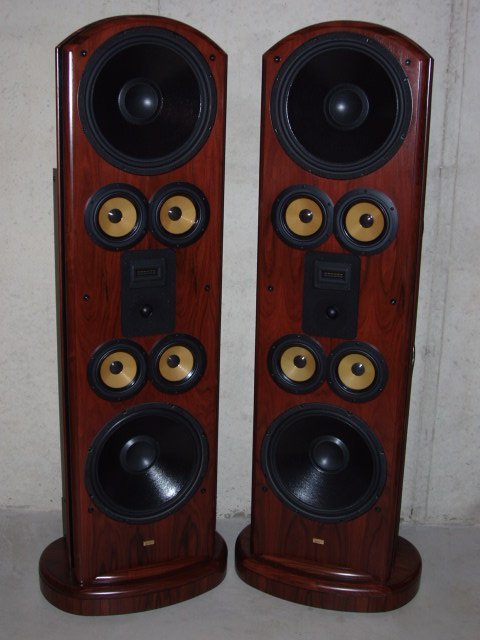 I modified these speakers eventually to eliminate all the extra binding posts in series with the drivers. Like other dipole bass speakers, found that while the response measured flat down to 20 Hz, the bass always seemed to lack a bit or more of punch, despite the four 15" woofers per side. I thus augmented the bass with first the Legacy Xtreme sub (its amp hummed too much to keep), then a pair of ACI Titan II LE (nice, but not quite powerful enough), and finally a pair of JL Fathom F113 subs (now we're talking!) but while this added some punch, due to my difficult room, monopole subwoofers created a continual need for adding outboard equalization in addition to the Legacy Steradian which was part of the Legacy Whisper system.
For no real reason other than audiophile nervosa's siren call, aka "the grass is always greener on the other side," I moved on to other speakers (and of course new electronics periodically as well). Next in this room was something completely different, the Ohm Walsh 5 Mk III, a very wide dispersion speaker with a small phase coherent module mounted atop the cabinet. The Walshes had the distinction for the most unusual/anal boxing arrangement I've every seen, with no fewer than five nesting boxes protecting the main cabinets.
I eventually blew a driver in one of the Ohms. The repaired speakers were also updated and never matched the great bass response of the originals. I moved on to the Linkwitz Orion. These were just okay, having problems with high frequency clarity, buzzing, and the dedicated ATI 12-channel (60 wpc) amps running out of power in the bass (the Bryston amps in the picture were not in use for the Orions).