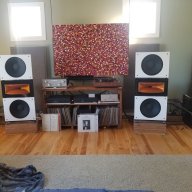 Feb 4, 2019
2,022
1,489
260
As some background for those that don't know, I am an electrician/Audiophile. I spent 6 years developing my understanding of how the electrical infrastructure of you home influences playback. For the last 2 years it has been an intense focus and my sole business. I have seen a lot of systems and I am fully cognizant the impact proper electrical infrastructure is to audio performance.

This last weekend was the first audio show I was a vendor at. I had a table in the Market at the Pacific Audio Festival. Being so new to shows it was a fun and exciting time meeting so many great people in the industry. Most every vendor I was chatting with got exactly what I am doing. They understand reproduced music is fundamentally a product of the power from the wall that is shaped by the equipment on the rack. But I was a bit shocked how many people I spoke with, after a minute or so were very nice and said the same exact line. What A Neat Idea. It really shocked me that so many people are unaware the importance of the electricity that feeds their system. And I think those that made the comment, blissfully walked away still unaware.

In all truth, when I bough my first high end piece of equipment 6 or 7 years back, I didn't think about the influence the power in the wall had. I only became aware because the toroid in my amp hummed so loud at times, it was heard in the next room. Then other times it was quiet. I questioned the dealer who sold me the equipment and he shared with me a quote an electrician put together for one of his customer where he was adding dedicated runs and dropping ground rods. That was what got me interested in best practices on feeding highly sensitive amplifying equipment.

I hope more audiophile in the US start to grasp the importance of power. It truly is the most important component in your audio system. It is a global component that affects everything. If its wrong, everything is wrong. If its code compliant but not optimized, it is holding back the equipment on your rack from reaching its full potential.