https://parttimeaudiophile.com/2019/06/15/vac-and-vsa-steal-the-show-high-end-2019/
VAC, VSA Steal the Show | High End 2019
Yet Another Crown for the Kings of the Audio Show
Posted on June 15, 2019 by
Lee Scoggins
in
Munich 2019
Where did that instrument come from?
The soundstage is huge and background dead quiet. That instrument just popped out of nowhere. Wow, that is spooky real. The timbre is dead on. I don't understand a word of this French singer but the jazz is amazing and I have rarely heard a jazz recording sound this good. This is truly world-class sound.
And that folks are how
VAC
,
Von Schweikert
,
Esoteric
,
Acoustic Signature
,
MasterBuilt
and
The Audio Company
created the Best Sound at the Munich show.
Now, this is not terribly surprising. Every show, this team has taken over a large room (some really huge in fact) to create what has almost always been among the top sounds at the audio show, no matter the show location. But Munich? Total home run. Easily my favorite room at the show even with strong competition from many (many) others.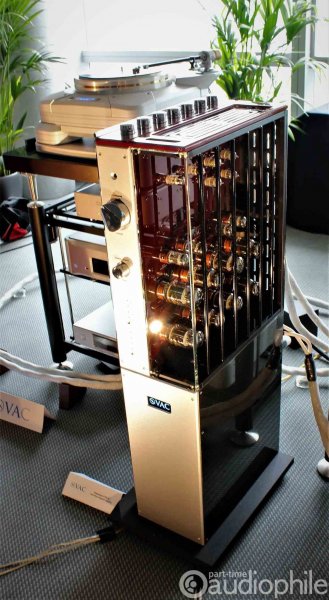 But how did this happen?
I asked Damon Von Schweikert the question and he said it was a number of factors but he felt that they had done the room acoustics spot-on this year. The had staggered tube traps in the back half of the room. Kevin from VAC and Damon & Leif from Von Schweikert have been traveling with the audio dealer The Audio Company. My guess is that setup is getting better and better as a result. These guys are all friends and after probably dozens of events and shows the machine seems well oiled and that's not just a reference to the "bier" in Munich.
How good was it?
Well, let me put it this way. I lean heavily to analog sources. But this track from French legend Michel Jonasz titled
Le temps passe
was simply magical on the Esoteric P-1 ($38K)/D-1 ($38K per mono pair) stack. It did not sound digital. No harshness, no crispness, no overbearing "accuracy." Just musical in every way. Beautifully tight bass. Truly deep and wide soundstage. Imaging to die for.
There's no way you can see all of Munich. It's so damn big. But this, in my humble opinion, was the room not to miss.
Effortless. Musical. You simply forgot about the gear, the mediocre food at the Hall, and everything else.
We listened to more tracks like the Royal Ballet from Ansermet. Dynamics like the very best systems. Perfect strings.
I have some suspicions on a few other factors to create this world class sound. Leif and I spoke a bit about these MasterBuilt cables they are fond of. Seems they source a material from an aerospace firm. They certainly seemed to be letting the music flow through like water in a pipe.
Then we get to the big tower integrated from VAC. I don't know how Kevin Hayes does it but this gear was certainly preserving all the detail and dynamics that added to the realism of the music.
Finally the last point of departure from the signal in these big beautiful red, Von Schweikert Ultra 9s that my pal Greg Weaver is in love with. Oh boy. These are incredible towers. A seamless presentation from top to bottom with a bottom that adds a wonderful foundation to the presentation. A clear, open sounding ribbon tweeter. A beryllium tweeter, and ceramic mids and woofers. Glorious midrange. Attention paid to vibration control on the cabinet. Big, heavy speakers with a big, bold sound. I have learned that amp and speaker combination is really important. The Ultra 9 and VAC Statement Integrated is one of those magical pairing. The specifications show what the speaker is capable of:
FLAT FREQ RESP: 16Hz – 60KHz (+/-1dB)
BASS FREQ RESP @ -6dB: 10Hz
SENSITIVITY: 92dB @ 1w/1m
IMPEDANCE: 4ohms nominal
REC. MIN. POWER: 60 watts
SIZE: 50″ H x 21″ W (rear) x 32.5″ D
WEIGHT: 500 lbs each
INTERNAL SUB AMP POWER: 1000 watts RMS
Analog sounded very good too but in this room, the Esoteric stack with dual mono DACs was the real winner for me. So much good analog at the show. So much great reel to reel as well. But this system really did it for me on digital.
Well done team! A truly special system. I think my friend Greg may be on to something.