It all started a long time ago, I'm 45 now but my journey with analog and vinyl started when CDs popped out to the world.
I had some of my parents' vinyls, some old stuff that everyone had. and some old Thorens (166) that my dad refurbished out of nothing
with a Marantz receiver and USA Beckers speakers. I was into music! playing. studying and listening to music almost 24H 7 day a week.
from there to the rabbit hole and when i had some money of my own (much later) the "audiophile" thingy snuck in and that was it, t
he never-ending pursuit of "happiness" in the form of metal boxes, shiny cartridges, turntables and speakers....
Now, almost 40 years later I'm 97% satisfied (you can see my recent set up on my signature)
but as you know, the enemy of good is excellent and keeping going every year to the Munich show and seeing what is the latest and best in the world will "hurt" (mainely your wallet).
my last analog adventures was base on Japanese turntable and such,
from my "Brinkmann balance" to a "clear audio master innovation" to "TechDas af3"
to "Techdas AF3P" and now the CSport TAT2M2 with their linear arm and a SAEC4700 in second position.
that to my ears demolished the Techdas TT i had... (never heard the af1 at my place though)
.... several CR in rotation - DS audioW3, Kondo IO-xp, Sumile, MSL, AIDAS, Kouetso, top wing, Etsuro Urushi.... you name it.
all connected to the "best" phono i know- the CH precision P1 and i'm a happy camper.
billing myself to death with records from around the world and listening to music without a care in the world... until....you guess it!
Munich 2023 comes again
.... on Saturday noon we (my best friend and I) decided to walk around the smaller show (HIFI DELUX) at the Marriott Hotel, where the more boutique company and somewhat special brands are in several rooms out there. This show is always special, without the constant noise of the MOC and the endless talking from the long corridors of business doing. and we enter one of the most Amazing sounding rooms we ever heard in any of our visits in any show!
It was VIVA equipment (that we know very well) with two large white speakers and an analog set up from V.Y.G.E.R all connected with VYDA cables.
The sound was clear! crisp, with authority, big and punch bass and low end with fluidity and musicality that we did not encounter ever in shows.
The guy who played music over there on records was none other than PINO! the owner and the genius mind from VYGER italy. We sat there for quite some time and with a split decision I got up and approached Pino and started talking to him in a broken Italian part English part Mime... and ordered an INDIAN SIGNATURE full system with their new TITAN electronics. i NEVER heard something that played like this! and i think it was my fastest buy in the AUDIO realm ever.
https://fb.watch/mqSJz751A9/
I am waiting for PINO and BJORN (pino partner at VYGER that is responsible now for the perfection of the new electronics and computers that were developed for this system!) to finish the production for my set up and delivered it to ISRAEL with the surprisingly visit of Pino himself to set up the entire system at my Home.
Furthermore, i obiusely contacted Enrico Datti from VYDA cables to work with us and prepare a very special phono cable and power cords for this system. and with luck some other cables that i can evaluate in my system to connect the rest of it!
Meanwhile Enrico sent me the phono cable during his summer vacation! and as i mentioned i am waiting for pino to come back from his vacation to complete the Indian signature and prepare it to ship over. I guess you all can read the sheer excitement i in to.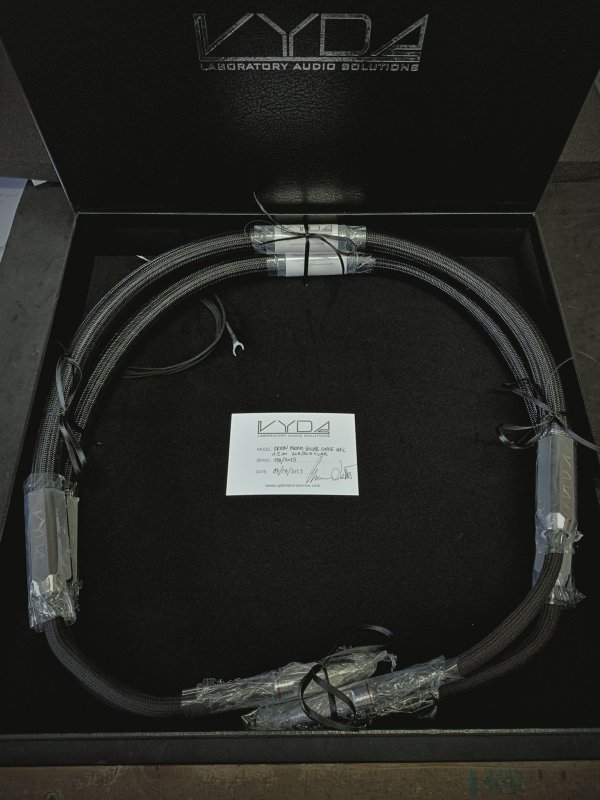 I will update more when they get here and with luck and some time write about my thoughts, posting pictures and more!
Until then, if anyone has some experience with those systems or Vyda cables I would be happy to hear about it, privately or in this thread of course
Aviad.