Ladies and.... Oh who am I kidding....
Gentleman and Gentleman!!
May I introduce the
Talos
from Aries Cerat debuting at the Munich High End Show 2017.
In Greek mythology,
Talos
(or Talon) was a giant automaton made of bronze to protect Europa in Crete from pirates and invaders. I find this representation accurate for a phonostage as it preserves the delicate signal from our cartridges in a way not done in the industry to date and it is a Giant at a whopping 260lbs!!!
Specifications:
1) Talos LE uses a True proprietary differential tube stage. This stage can handle the cartridge signal as differential signal even if RCA cables are used.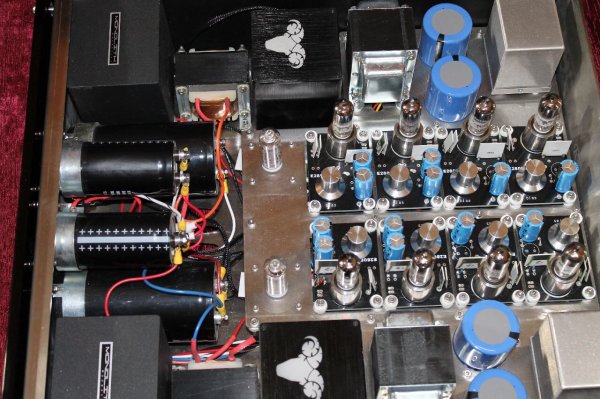 2) The RIAA stage uses a small SET transformer coupled stage to drive a constant impedance LCR network.The LCR module is designed and built in house( hi-u cores for chokes, teflon capacitors) and each individual part value is adjusted on the fly, in house, to achieve a RIAA curve accuracy 5-10 times higher than other LCR modules.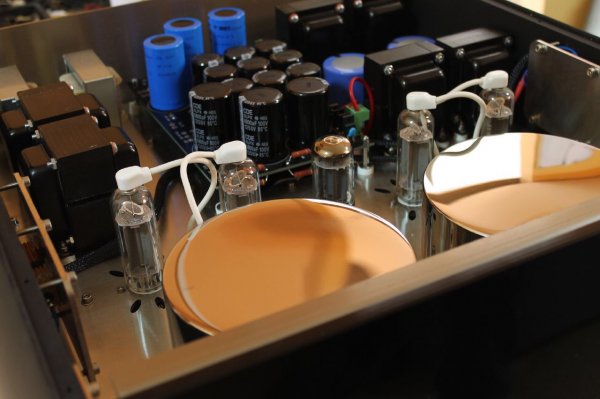 3) The output stage is a unique Inverted Triode stage, that is showcased in our Impera II series of preamplifiers. The Inverted Triode is driven by it's own driver circuits and is loaded with a special very high bandwidth output transformer. Inverted Triode Technology offers 100 times lower plate resistance and bandwidth unreached by any triode that we know of!
4) Separate tube rectification for all stages. Only passive filtration for all circuits, no active filtration (active filters means feedback nests) Multiple series of filters for complete broadband noise elimination.
Gain: 64db (active stage) +12db optional SUT (76db total)
Noise floor:-85db non weighted -95db A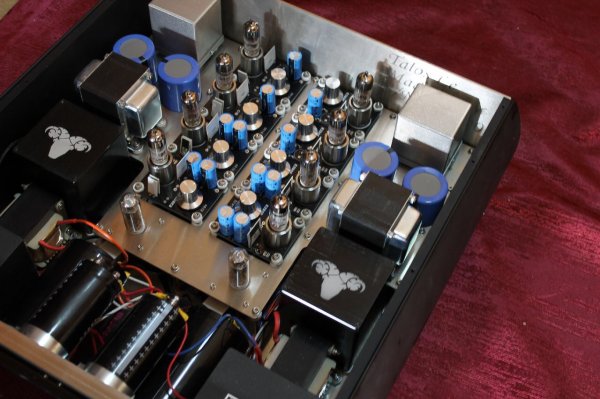 5) All three stages are transformer coupled. Our proprietary AC link connectivity method is used between stages. Zero feedback. Why use very expensive grounding when you can eliminate it altogether?
AC Link:
Any single ended or balanced audio connection consists of the signal line (or two of opposite phase signal lines for balanced) accompanied with a ground connection. The Aries Cerat AC link doesn't carry a common ground. This type of system is comprised by a floating secondary winding.
This connection goes directly to special biasing circuits of the proceeding stage (such as in the Diana Forte amplifier) which directly modulates the biasing circuits. No common ground is present and the signal is not referenced to any of the two device's grounds. This method of signal transmission, when combined with Aries Cerat's tube stage's biasing circuits, present a much more robust way of driving the tube. Signal bandwidth is superior (when all aspects are kept the same), transient response is cleaner, and overload recovery behavior is much faster and artifact free. Therefore, the AC Link signal transmission comes with a very nice "side effect" of superior sound quality as a bonus.
6) All eight E280F super tubes plus inverted triode, can be individually biased to fine tune the phono stage's performance. The E280F is already many times linear that other input tubes to date
All eight E280F super tubes sit on specially designed and build silicon-gel containing sockets to eliminate tube microphonics.
If you go to the show don't miss this opportunity to hear it.