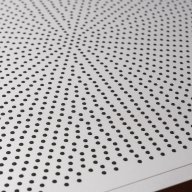 Feb 10, 2017
1,297
1,505
210
So, on the Extreme, you use the onboard NIC with the Telegartner GOLD M12 switch, and that sounds better than utilizing a good external PCIe card like the JCAT? I was under the impression that the Extreme was highly tweaked to utilize fiber via the Startech PCIe card. And I thought switching to the onboard NIC with the Telegartner GOLD M12 switch may mean going back to the test lab to re-evaluate copper connectivity. But maybe I am wrong about this.
BTW, I am with you on the power supply thing. Tweaking your whole system with multiple rails of the same design power supply gives better results than using a mixture of many different power supplies.
The Extreme has both copper and fiber ports, it has not been highly tweaked
towards
fiber, but being a dual CPU design you have some options on where to offload certain types of processing, this in turn can make network traffic packet handling less invasive to sound quality. Multiple separated "grounds" can indeed introduce a variety of issues.