I've made the decision to significantly simplify my system. After over a decade of a using a fairly complex system comprised fully of "separates" and the complex clusterf*ck of optical fiber/Ethernet/USB digital cabling, switches, clocks, and network bridges, power supplies,
and
the attendant power cables for the power supplies for the networked digital front end, I've decided to simplify and "integrate" my system and move towards "ideality*" as espoused by Geinrich Altschuler*, who developed TRIZ.
With that, I've decided I'm going to sell my CJ LP70S power amp, First Sound Presence Deluxe 4.0 Si-III dual-mono preamp with external dual power supplies, my Lampizator Baltic 3 DAC, all the streaming gear in the main rack, and all the requisite cabling attached thereto.
Not counting the TT & phono pre, as soon as possible, my amplification system is going to be comprised of only
two
components:
a Lumin P-1 streamer/DAC/preamp...
and a Constellation Inspiration integrated amp...
After fiddling with a complex remote-server streaming system set-up comprised of, in the main rack alone, an EtherREGEN, a SOtM network bridge, an AfterDark Master Clock, each with their requisite Ethernet cables, clock cables, USB cables, ground cables, and power cables for their power supplies, blah, blah, blah, I'm going to
simplify
and run a single optical fiber cable straight into the back of the Lumin P-1 and connect it via a single pair of ICs to the Constellation Inspiration integrated amp. Job done!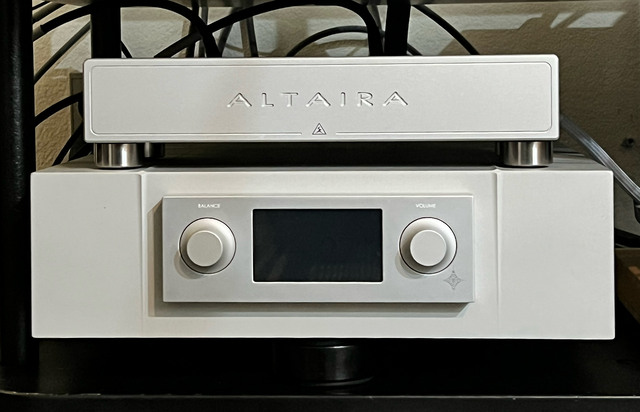 I'll also be able to remove a number of components and cables: 4 power cables, an Ethernet cable, a USB cable, and a clock cable from the main system:
6
fewer devices and
7
fewer cables in the main rack.
For power, from Everest, gonna run a Sigma NRv2 PC to power the Inspiration, and an Omega QR-s PC to power the Lumin P-1.
I'll only need Venom-X ICs from the Lumin P-1 (XLR) and the EAR phono stage (RCA) to the Inspiration integrated amp, and from there, Alpha V2 speaker cables to the 'Beth 30.2s.
I'll be putting up all the other gear (the Lampi DAC, the First Sound preamp, the C-J LP70S amp, etc.) up for sale as soon as I can take and post some product shots, so, if interested, stay tuned for the corresponding ads, the prices will be
very
favorable for prospective buyers.
Simpler is better. Just as Linn said all those years ago.
Stay tuned and cheers.
*–
Ideality
as described by Altschuler:
https://en.wikipedia.org/wiki/TRIZ