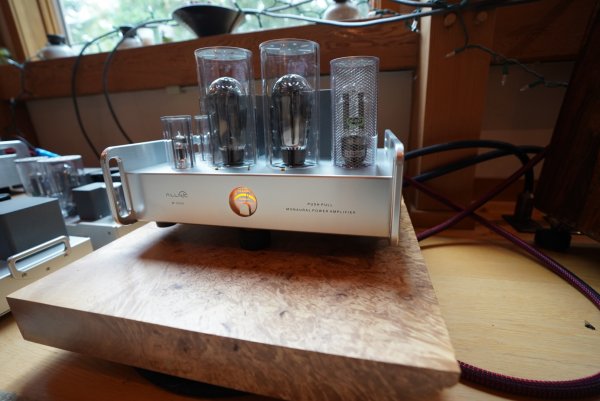 Anthony Kershaw
of
Audiophilia
recently posted a review on the new Allnic M-2500 and I wanted to post my impressions and summarize what it offers. I have owned many tube amplifier designs over the years and historically the push-pull type has never been my favorite. Each design approach has its strengths and weaknesses. As my speakers became more efficient, the micro detailing of single bulb, low wattage amplifiers presented huge benefit without any detriment to my evolving and, admittedly, more mellow listening style -- a lateral move where I remained content for some time. When I learned of these new amplifiers, I requested KS Park to make a set specific to the PX25. This enabled me to do a direct comparison using the same PX25 tubes and rectifiers.
This new amp design has hit the sweet spot between SET and typical push-pull amplifiers. The M-2500 maintains the micro detailing, texture and overall finesse across the midrange SET designs are known for while improving the dynamics, slam factor and extended and focused bass. This improvement was further accentuated by replacing my 1937 production OSRAM PX25 and 1950 production GEC (OSRAM) U52 with modern Kron tubes. There was an unexpected and pleasantly surprising profound change in clarity, as if donning eyeglasses first thing in the morning. Frequency extension in both directions. Deeper, broader soundstage and improved imaging with a new emphasis on the delicacy of decay particularly noted in percussion. To emphasize, this change was not subtle and I anticipate these amplifiers being a tube rolling delight while adhering to the manufacturer specifications.
I suspect the SET characteristics can be attributed to the direct-heated vacuum tube rectification. The 5U4G full-wave rectifier tube replaces the semiconductor diode in the rectification circuit of the M-3000 mkii and other traditional push-pull amplifiers.
With the individual tube biasing, pairing is not necessary. Historically, I find Allnic circuit design does not overdrive their tubes and they tend to last a very long time. The M-2500 appears to retain this benefit.
The M-2500s are now my go-to amps with no issues presenting with any genre at any volume. My amps are the PX25 20W continuous triode, set at 8 ohm driving Daedalus Zeus Speakers with 99 dB efficiency at a VERY flat impedance curve (+/- 1 ohm above 100hz) and most of the time are spot on at 6ohms. I have had customers prefer the micro-detailing and improved bass inherent to the PX25 and drive their Daedalus speakers at 96 dB.
The 300B/PX25/KT150 circuits are each unique and, therefore, tubes are not interchangeable. Amplifier design is established on order and hand built in Korea.
PX25 - 1st Stage 5654, 2nd Stage 6S4, U52/5U4G Rectifier and PX25 x2. 20W Continuous. Triode
300B - 1st Stage 6485, 2nd Stage 12A4, 5U4G Rectifier and 300B x2. 30W Continuous. Triode
KT150 - 1st Stage 5654, 2nd Stage 6S4, 5U4G Rectifier and KT150 x2. 100W Continuous. Pentode
Technical Specification
Output Power:
PX25 : 20W Triode
300B : 30W Triode
KT150 : 100W Pentode
Distortion 0.01% at 1kHz at 10W
Frequency Response 20Hz to 50kHz flat
S/N Ratio -100dB (CCIR, 1kHz)
Damping Factor 8 at 8Ω load at 1kHz
Voltage gain less 0.03% +26dB
Input Impedance 100kΩ (single-ended, unbalanced)
Tubes (per monoblock pair):
PX25 x 4, 5654 x2, 6S4 x 4, 5U4G x 2
300B x 4, 12A4 x 4, 6485 x 2, 5U4G x 2
KT150 x 4, 5654 x2, 6S4 x 4, 5U4G x 2
(Substitute with equivalent direct-heated rectifiers only)
Fuses 3A/230V, 5A/120V
Dimension 440mm (W) x 370mm (D) x 260mm (H)
Weight 20kg
Anthony Kershaw's M-2500 Review
Allnic Audio Korea