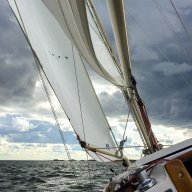 Dec 7, 2011
10,297
7,772
1,565
Based on some recent email discussions, I wanted to revive this thread a bit... I have read numerous claims on the net how to best set VTA/SRA by ear, and the one that's been floating around on audiogon for quite a while now is listening for harmonics either leading or trailing the fundamental, as an indication of SRA being off in either direction. I think this is entirely misleading: the very definition of a harmonic is that it cannot possibly exist w/o its fundamental, so for it to lead or trail its fundamental is meaningless to me.

Therefore, to me, the bottom line is that we should be listening for the minimum amount of intermodulation distortion - minimal or no additional unwanted harmonics - when adjusting VTA/SRA, and hopefully for every LP if we can.
Here is one of the posts to which I think Ack is referring. It appears originally in my system thread here on WBF, though there are additional references to this on Audiogon:
Hello Frank, I spent a month experimenting with VTA settings and found that proper SRA is essential to getting the most enjoyment out of vinyl. To my surprise, it has little to do with LP thickness. I did these experiments while I was also experimenting with loading and gain options on my old Pass XOno. I had thought loading and VTA would effect the sound in similar ways, namely tonal balance. I was very wrong.

SRA has everything to do with the timing of a note. If the VTA is too low, the fundamental and the harmonics are slightly separated in time. The note is stretched and sounds unnatural. If the VTA is too high, the harmonics overlap and obscure the fundamental of a note, softening transients and hiding details. When the SRA matches the original cutting angle of the LP groove, the notes sound more natural and the timing relationship between the fundamental and the harmonics is correct. Transient, sustain, decay.

To this end, I now adjust the VTA of my SME V-12 arm within a 4mm range. I use the SME supplied paper protractor which has a mm scale on the end. I measure from the top of the armboard to the bottom of the arm rest support, both of which are flat. The average measurement is 17mm. Some records are as high as 19 and some as low as 15, but the majority are between 16 and 18. I find the correct setting for each LP when I play it and then write it down on a sticky note which I keep between the cover and the outer sleeve for easy reference for the next time I play it.

I did this demo on a fellow member's (ACK'S) system with two of my LPs. He was really surprised at how much the sound changed and how much more natural the music sounded. In another experiment, this gentleman asked me to shut my eyes and tell him when the VTA sounded best as he adjusted it up and down on his VPI table/arm. When I said stop, he measured and told me that the setting was extremely close to the theoretical 92 degrees that he had previously calculated. I think that was a coincidence for that particular LP because I have found that the same thickness records have different ideal SRAs. 92 is just a close compromise and if you don't have a way to do the math or capability to see the stylus, how do you know what the angle is? It is much more accurate to set it by ear. You just have to train yourself to know what to listen for.

It has taken some practice, but it now only takes me about 15-20 seconds to adjust the VTA before I play the LP. Sometimes I will play a few Philips LPs in the evening for example which have the same setting, so I don't need to adjust anything for that session, but usually, I make 2-4 changes an evening. It is well worth it, IMO.

LPs that used to sound a bit flat or lacked detail and natural tone now sound much better. Dynamics improved also, but mostly, it is the quality of the notes which sound much more natural when the SRA is correct. Incidentally, a 1 mm VTA height change on a 12" arm is less than 1/4 degree of SRA change. This is audible on my system and has contributed greatly to my listening enjoyment. I dare say it is about as significant an improvement as going from the XOno to the XP-25. And some of the sonic improvements are similar, ie better spacial layering, more tonal density, and more accurate timbre.

And the best part is that this improvement in sonics was free for a change.
This method of adjusting SRA/VTA was taught to me by an audiophile friend named Doug Deacon. He posts frequently on Audiogon in the analog forum. I think he wrote somewhere that he learned what to listen for while adjusting SRA from Frank Schroder. The "fellow member" to whom I refer above is Ack. We performed this demonstration on his system and got positive results.
I don't claim that it is the only way to adjust SRA, nor the best way. Nor do I think everyone should adjust SRA for each LP with a different original cutting angle. However, I have found that precise SRA can improve the sonics of one's system and that this is the method that works best for me. It is relatively quick and does not involve the use of any testing gear besides one's ears. The problem that I see by using a test LP is that we do not know what angle the original cutting head was set at, nor is the thickness of the test LP the same as that of the rest of one's LP collection. Ack's recommendation to use an LP may work great for that LP, but as I have found, the important thing is to try to match the SRA of one's stylus with that of the cutting head originally used to cut the lacquer. Because there was no standard, that angle varies, so setting the stylus to match one test LP may not give one the best results for the rest of the LPs in his collection.
Regarding the timing relationship of the fundamental of a note and its harmonics: This makes intuitive sense to me and it is what I think I hear when listening to something like a piano key or cymbal being struck. It is more difficult for me to hear with a bowed string, but I have learned to hear that also. When the timing relationship between the fundamental and harmonics of a note is correct, the note sounds more natural with increased clarity, dynamics and correct timbre.
As Ack mentions, there is a lot of misleading information on the net. I hope that I am not contributing to it by sharing with others the method that I learned for adjusting SRA.