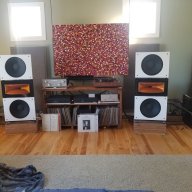 Feb 4, 2019
2,032
1,501
290
Netflix has a show about the Mozart family. I have watched 2/3rds of it twice. My wife keeps falling asleep so I turn it off. Anyhow, It's a fun story that peaked my interest. It got me into looking at his greatest works and moving out from their. I am soon to start going from his early to later works.

It also solidifies why I saw Joel Durand has his classical by age, not composer. I am more curious now to see what each composers influence was on the next generation. I wonder how much classical changed over hundreds of years. Rock changed quite a bit in 60 years. I wonder if we will ever see a great rock band again.

By the way, what or who is the starting point of classical music.