May 24, 2010
700
533
1,155
I was asked if I would review a new cable that goes between the power supply and the digital section of my MSB DAC. This cable is a power supply cable from Westminster Labs and designer Angus Leung.
With nothing to lose I said yes, even though it made no sense to me since there is no signal passing through this connection. Having invested heavily in MasterBuilt Ultra interconnects, USB, speaker wire, and power cords throughout my entire system, I could not imagine how it could help since I think the stock MSB cable and the MasterBuilt USB cable are quite good. However, Steve Williams suggested I give this cable a listen since I am a seasoned listener and have an MSB DAC, so I decided to try it.
I will provide some system information, my core biases and a brief mention that mentally I am at the weirdest stage of my life 10 months after becoming totally septic from 37 radiation sessions for my reoccurrence of prostate cancer. This unfortunately put me into congestive heart failure, a month long coma, led to a quadruple bypass and two days later an occipital lobe stroke that kept me in inpatient facilities for 7 months. I tell you this because when I got the cable to evaluate, I had no interest in listening to music because I was so lost about where my life was and is going, and it took me a while to learn how to listen to music again because all of the connections between the many brain nuclei that enable complex thoughts, behaviors and my ability to hear needed to be reconnected and relearned. What is really remarkable is the impact that this power supply cable is so huge. As a bit of background my system is one I have written about extensively on this forum under the thread "My Bucket List System". It was intended to be my ultimate system that I would use during my retirement until I could no longer hear.
In brief, my system is a slightly downsized version of the Von Schweikert Audio and VAC reference system that regularly wins best of show, in association with the Audio Company. Instead of Ultra 11's I have their smaller footprint model, Ultra 9's which have the same drivers and network as the 11's but is more useable in my space than the 11's would be. To my hearing they sound the same, possibly with the 9's having a slight edge in my space. My electronics are a pair of VAC 452 monoblocs, VAC Reference Preamp and Renaissance phono stage, a Taiko Audio Extreme connected to a MSB Reference DAC with a single power supply. I have a Bergmann Galder turntable with an Odin arm with a My Sonic Labs, Signature Platinum cartridge. The entire system is connected using MasterBuilt Ultra cables, USB, power cords and speaker wire.
While audio is my main hobby, I also used my system as a way to get out of my head after a long day working as a psychiatrist and addiction specialist. In fact, I use how long it takes for a system to get me out of my head as one of the core indicators of how "believable" the system is, and most important how much I enjoy listening to it. I used to say that my system was so good that even on my worst days it could get me out of my head within 10 seconds
I had decided to buy the new Lampizator Horizon DAC to step up the digital processing but had to cancel my order due to my serious medical problems that have turned my life upside down. Unfortunately, facing a likely move to a medical facility for the balance of my life and a major financial hit to my retirement fund, I very reluctantly decided to cancel my Horizon order. It was supposed to be the finishing touch to my audio creation, the cherry on my audio sundae, but instead it became a clear and undeniable indicator that the direction of my life was going to take going forward would be totally foreign to me and forever changing. It was also likely that I would have to sell my system due to where I would be living in a facility. This decision was very depressing and extremely scary and foreign to me. Said another way, I really was not in the right spot to do a cable evaluation, let alone one that does not carry the signal path, because I was so overwhelmed and scared in general I tell you this so you can truly appreciate my comments about the sonic benefits of this Westminster cable at a time when I was not into listening to audio because I had much more important things to do like figure out how to live.
The Sound Improvement from the Westminster Labs power supply cable when I first put it into my system, was truly staggering because instantly there was marked increase of acuity of the sound, although the sound stage was off. By the second day, the sound stage anomalies started to resolve and then the magic show began. Fortunately, over the next 10 days I was progressively drop-jawed as the sound improved and especially the way it improved. During my time as an audiophile since age 10, and breaking in many systems and their components, I never heard this type of break-in progression. In fact, the Westminster cable makes such a huge difference that exceeds almost all of the other changes I have made over the years to my system on a sound for dollar basis. This is a huge claim after being a dedicated and knowledgeable audiophile for more than 60 years.
By day 4 the image started to resemble a new flower with regard shape and emotional impact and its ability to captivate my desire to listen to my system much more. With each day the bud sized image bloomed and became dramatically more beautiful, detailed and captivating. At the same time this image evolved, I felt myself constantly wanting to go back and listen to the progressive break-in so that I could be captivated more each day, and because it was getting me out of the dark space I had been in with no desire to listen.
To give you the full power of the sound stage produced by this cable, I need to state that this cord gets me out of my extremely dark space in less than one second, even when I am listening to music that I do not particularly like, compared to 10 seconds with the MSB cable, listening to music I enjoy. The only way I can explain this is the detail, reality and sound stage produced by having Westminster Labs cable in my system became the most powerful force to get me back into a happy audio space, perhaps happier than I have ever been with my system or most other serious sound systems.
The sound of this blooming beautiful flower of a sound stage, instantly pulls me back to my happy audio space once again. That is how intriguing the impact of this DC power cord with allegedly no signal path has had on my system and my very preoccupied state of mind. Said another way, it has driven my desire to listen to music back to where it used to be pre-illness. For me that is something really special as I struggle down the medical road that totally changed my life and at times has me feeling totally lost and not very happy, let alone desiring to listen to music.
I realize that this is probably one of the weirdest reviews you may have ever read for a product that should not have this truly dramatic impact. But then, whatever the designer, Angus, has done with this cable demonstrates that he hails from a different design planet and truly possesses very special skills. It will be amazing to see what he has up his sleeve, because this cable is nothing short of amazing.
After not listening during a dark period that lasted 5 days, I sat down to listen again before re-inserting the original MSB cable for an A-B-A comparison. The best way I can put it is that my last listening session with the Westminster power cable reinserted was 3+ hours because I could not get out of my chair as I worked on making a bunch of new Roon playlists because everything sounded so good. What is really amazing is that everything I was listening to from all over the music spectrum had this eerie three dimensional ultra-live highly detailed sound that is not only captivating, but actually addicting. Reluctantly, but in the name of objectivity, I reinserted the factory MSB connector, which produced an immediate and multi-dimensional change, that overall makes my system sound more like a good system, rather than "being, there" live under incredible sonic circumstances.
The entire sound stage collapsed back to the plane of the speakers, rather than emanating from the center and blossoming as it works towards it edge. On the reality front, it was not even close to being as believable when the Westminster Labs cable is inserted. Unfortunately, this also means the overall sound is less inviting, thus not as enjoyable and my listening time instantly reduced, with me frequently not getting through an entire song.
Now it is three days with the original MSB cable installed and the sound is improving somewhat, but absolutely lacking the very special qualities of the Westminster Labs cable. I no longer sit down for extended listening sessions, because all of the extra musical information and imaging are missing. I frequently jump to another song rather than listening to the entire cut
Yesterday, I sat down to evaluate the Westminster Labs cable again 7 hours after being reinserted into my DAC. To my surprise, while not the pinnacle of its sound, it sounds incredibly good and I then became unable to get out of my listening chair for more than 2 hours. Everything, and I mean everything, sounds better and more captivating with me losing all sense of time and thoroughly enjoying listening to music.
End of Part One of This Post. Part two follows immediately.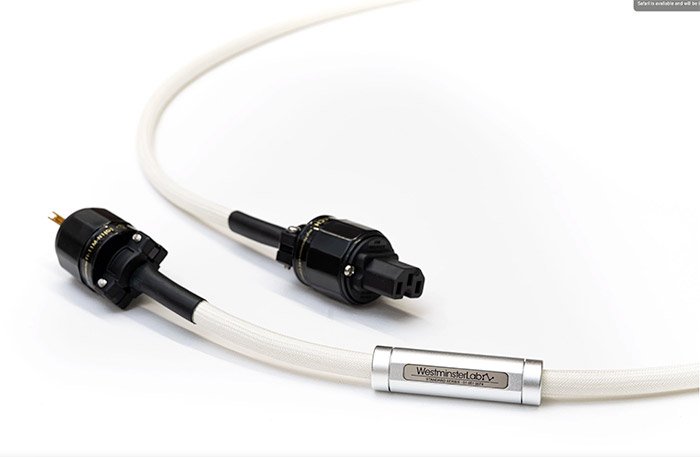 Last edited by a moderator: