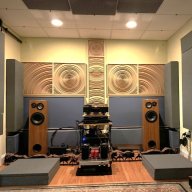 Jul 31, 2015
764
366
385
69
Hello Everyone,

I am in the process of upgrading my digital front end. I am trying to decide whether to invest my $'s in a nice CD transport (e.g Jay's Audio, CEC TL2N) or a music server (e.g. Innuos Zenith Mk3, Mojo Audio Deja Vu etc). In an ideal world, one might invest in both, but for now, financially I can only do one. Putting considerations like convenience aside (e.g not having to physically place a CD into a transport, experiencing a ton of music off streaming services), from sonic performance standpoint, if one were to spend say $6K or so on a CD transport OR a music server, which one would yield a higher sonic performance? My assumption for the music server is that one is playing the music of a local file stored on the server (I've been told and read that streaming real-time off the internet performs worst than playing a local file). In either situation (CD transport vs music server playing a local file), I will be connecting directly to the same external DAC.

If this question has been addressed somewhere else, please point me to it. But I was hoping for folks who have done such a comparison and have decided to go one way or the other or did both, I would love to hear about your experiences and any insights you can share is much appreciated. Thank you!
Neither. Dan Wright of Modwright is thinking of doing one of his analogue tube output stage mods on the new Marantz 30n sacd/network player. That would be my top recommendation.
See: