Member Sponsor & WBF Founding Member
Apr 25, 2010
9,773
4,535
1,170
started around noon yesterday. today starts at 9am. our WBF member Ed DiVito runs Audio-Ultra (he was also with Rex, WBF member Kingrex, doing the electrical help for Michael Fremer at his home......Stereophile write-up this month.....Rex is not part of Audio Ultra).
i got there about 4pm and stayed till around 6pm. the session i enjoyed was Michael Fremer playing some really fine pressings on a Kuzma tt and 4-point arm, Ortofon Winfield cartridge, Boulder phono, D'Agostino preamp, MSB 500 stereo amp, and Magico S5 speakers, and Magico Q-sub (Magico A5's are also in-room). it's a big room and they were getting really great sound, maybe the occasional bass overload, but only occasional and Fremer was cranking it. it was a fun session as it always is with Fremer DJ'ing. i'm planning on returning today when i can.
i've heard Magico's and MSB amps before, and these were more mid-line Magico's, but this sound was better than my memory of those more spendy M6 versions. maybe it was the Fremer pressings? don't know, did not hear the digital.
it's at a very nice up-scale hotel near SeaTac airport.
there are MSB Reference and Select dacs, and a Taiko Extreme music server too, so this is the real deal to hear what digital can do.....the same gear i have.
some of these pressings Michael played are unobtainium 'Fremer-only' stuff and i was impressed by what i heard. crazy how a great pressing simply lifts the sound of any system. a dominant aspect of our hobby. i was able to talk to Michael for 10+ minutes before the session, i'm still processing all the stuff he said. he is a treasure (and i appreciated him tolerating me).
bravo to Ed and his team for giving us an 'audio show' experience that we are so starved for, then pulling it off so splendidly his first go-around. i'm impressed.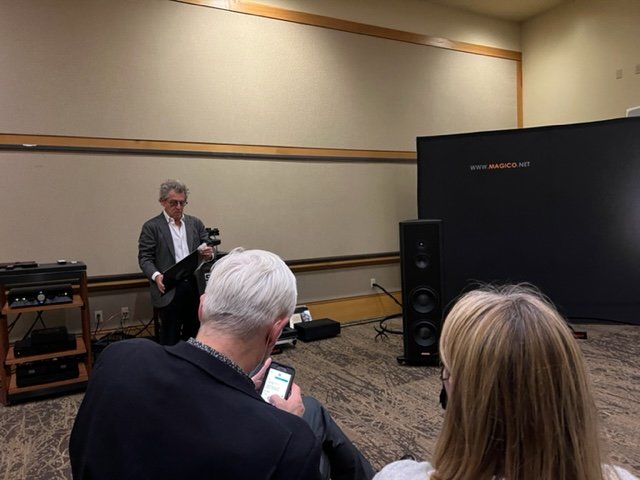 Last edited: