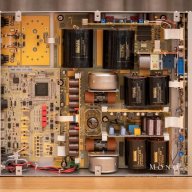 Feb 12, 2021
285
287
70
47
High efficiency horns are a challenge if you want super quiet. My friend Howard had horns in the 104db or so range. His electronics were not that good. There was a whole lot of noise. As in loud hum.
Yes, hum is likely due to ground issues. I had to try a few different settings on the Zeel pre and amp to eliminate hum.
My horns are about 104dB as well - only +1dB of noise at the listening position at listening volume, vs. the noise when the system is off. But, I went a bit nuts with the preamp and amp. The Kondo Japan M77+Souga are very quiet. The Zeel combo is not much quieter, maybe 0.5-1dB (although I didn't measure, just a guess).