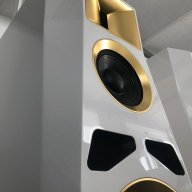 Jul 22, 2010
2,769
2,098
1,310
Problem with many collections is the absence of an exquisite taste with record collecting. If one had this superb taste and did buy only the best, such a big collection equals in worth like a goldmine. But most collections I've seen have a high amount of rubbish records mixed with only some pearls. I don't know why people do mix their music this way and purchased so many bad and cheap records that have no style at all, but thats how it is. The majority of listeners in the 1970's or later bought the mainstream music, very rare they bought classical or jazz. And even if they do, they weren't able to fetch the to cream of its genre but mostly fetch the junk. I've seen top quality collections being sold after the owners death, but they are the absolute minority. The others have a very high percentage of junk or mainstream music in it, and thats beside the state of grading the records. Its just about the quality of the whole collection.
Walter, People bought rock because they liked rock, listened to rock and enjoyed rock. That's what young people ( not just them BTW)do and did. They probably played those crappy records like I did on my way to 6000 of them. The overwhelming amount of music purchased is not Classical nor Jazz. Look at the sales charts. When I was on H.S. and college that is what we did, we went to the record store to buy the album from the one song we heard on FM radio. Chicago, Led Zep, Jethro Tull, Allmans, Beatles, Stones etc. The music wasn't crap but many of the recordings were.
Exquisite taste? who's is that other than the guy buying the records. This attitude and belief that my liking is superior to someone else's opinion is what is wrong with all of these discussions.
If you listen to 100 percent of one type of music trust me you are the exception not the rule.