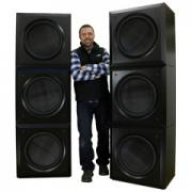 WBF Technical Expert (Speaker & Acoustics)
May 21, 2010
355
74
435
44
Sub measurements & optimization
I had a moment and wanted to throw up a few measurements to show what I did with the 3 SubMersive HP's and how I used the QSC DSP-30 to integrate them in the room. These measurements are directly into the DSP-30 with no low pass in the mix yet:
No matter how good the room, its rare for one location to deliver the entire range below 100Hz evenly to the listening position. Here we can see the response of each location. You can see that my choice of the rear left subwoofer location has strengths where the front pair locations are weaker:
Note these measurements are single SubMersive HP's all driven with the exact same level. This is a great demonstrations that location alone can make for gains or losses of 10+dB over limited frequency ranges.
Here we see what happens when you combine all 3 holding the identical levels to the above curves. The orange curve shows a strong cancellation at 43Hz occurring from our starting point. The white curve is the result of adding 6.5ms to the rear subwoofer. The blue curve is the final result after I separately applied a little EQ to the front pair and rear sub, and maybe a couple filters on the set as a whole: