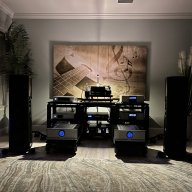 Jan 19, 2019
1,139
1,285
290
I've been very satisfied with our Pass X260.8s. However, after the demo of the EMM MTRX2s I determined I definitely need more power. Everything was better. But EMM never gave me the Class A power that they were delivering.…
The EMM isn't within budget right now (saving the budget for the new room and equipment at which time I'll be considering Gryphon as well), so I'm considering some Pass X600.8 monos to go with my present system. They will deliver more bass and are a good match with our Magico M3s. The 600s offer 100w of Class A into a 4 ohm speaker. Since my needles don't move in my current set up (so it's not in AB) the extra Class A power will be more than enough. And if not with 4 ohm speakers there's 1200 w of power.
This said, is there another set of "monos" you would suggest? They need to be SS, powerful. I'd like to spend no more the 17K + the trade in of the 260s.
Here's a reminder of what I presently own:
Thanks in advance.
Last edited: