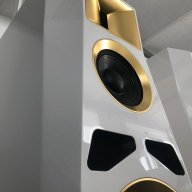 Jul 22, 2010
1,642
664
555
I have been playing with and learning about audio reproduction at home for as long as I can remember. I am not an equipment junkie, although I think I was way back in time, until I finally got to understanding that without getting the speakers perfectly set up in my space nothing else I did truly mattered. There is only one spot for your speakers in your room, that is if there is one at all. I have had this discussion with some of the top set up people in the business and we all came to the same conclusion and that is that the positioning of the speakers is the most important part of getting the best out of an audio system.

I am not trying to say that the rest does not matter but rather I am saying that without the former the latter is always the dog chasing his tail. I think that so many people grind there way through gear and accessories is they know intrinsically that there is something not right, but they do not know what it is or how to fix it. I have heard so many systems I cannot even guess at the numbers any longer, but I do know this, the overwhelming number of them were just not executed correctly. This includes showrooms, listening rooms, show exhibits etc.

Ok, so you may ask how is this possible and I think the simple answer is that most do not put in the work to find the correct location and/or do not know they should. I see hundreds of nice pictures of rooms with lots of beautiful gear that is obvious to me that it is not set up correctly.

Walls are not the friends of speakers and how the speaker you own reacts with the walls, floor, ceiling and the seating position will determine the quality of the results you get. I think that before you go buy something new you might want to consider why you are buying or trying it? I Definitely know that there are sonic differences between speakers, electronics, sources etc. however I know so many people that continually grind gear and never get anywhere. They never arrive because they are just changing to make it sound different and they never solved the basic issue of having the speakers correct. Speakers should couple in a room. The process is not that hard, but it does require some basic knowledge and requires a bunch of time. I don't believe there are magic beans and numbers to just take them out of the crates and drop them on the floor and viola!!! Changing from brand A to Brand B does not mean that the new one in the same spot as the old one is correctly placed. There are differences between speakers in how they react in a space just as there are difference in how they work technically. A cone speaker reacts differently from electrostatics etc. To position your speakers is somewhat like seasoning a steak, you do not know how much you need to get the most out of the flavor until you have gone to far.

The process to me is a lot of fun and it can be challenging as well. Its fun in a room I know and when I am primarily doing it for my own enjoyment. It is challenging when there are constraints like time and a new space and system you aren't familiar with. This of course happens at every show I do. My expectations are less at a show because I know that I only have a minimum amount of time to get everything unpacked and installed and working before I can even start trying to get the speakers positioned. I prefer to do this over a period without the stress and pressure. I prefer to do it like this because for me an hour or two at a time works best in keeping my focus and interest. I really respect those who can just go do it as their work and in a very short period of time do it for others and do this after traveling with strange everything as variables.

I do enjoy doing this for my clients on the gear they purchase from me since I am usually very familiar with the gear and how it SHOULD work.

This brings me to my point of the here and know. I have spent the better part of 6 COVID months with the Divin Marquis in my sound room. I did not get he opportunity to do Axpona, L.A., Munich and RMAF so my focus has been undivided here on getting the most possible from these wonderful speakers. I have been thrilled with the result for a bunch of reasons but the first and foremost is that they just work incredibly in my room. I think the size and dimensions of the room lend them selves to a speaker system of this size. I also have over two years' experience currently with the room, Oliver's speakers and cables and the CH Precision gear I own. I am a very persistent listener. I mean by that that I listen all the time and do it almost every day for a variety of reasons but first and foremost is to enjoy the music and relax. Music for me is the thing in my life that keeps me sane and grounded. It transports me, changes my mood and allows me to connect with the universe.



OK, the background is done now I want to delve into my latest audio journey. I have been overwhelmed by claims and underwhelmed by reality with the subject of isolating my components from the room and each other mechanically. I have been mulling this over in mind for quite a while and have from time to time tried amp stands, racks, spikes, cones feet etc. I have ignored it recently ( the last few years) but now that I have my system really being magical I wanted to see if I could take it just a bit further without messing up what I had done. I have heard claims by many companies that make incredibly expensive racks, stand, feet etc. and have had some experience in the past with many of them but I was not taken.

I digress. I am not going to say that what I have found is better than something else which I have not tried nor any other pontification as to this the BEST. What I am going to try to describe is what has taken place in my room with these small and affordable devices.

I saw a picture online of a custom-made platform that was being installed under a pair of the new Wilson very large speakers. The platform looked nice and looked like something that I could use and do without going off the deep end financially. I found out that these were from Norm Varney's company. I know Norm for many years going back to his stint with M.I.T. He has assisted me in the past with help for designing and building sound rooms in my last three locations. I recently, two years or so ago, purchased some Room Damp 2, which we used in the current room and I am thrilled with the results.

I called him and we discussed my system and he suggested I try the EVP under my speakers first and he explained why. I told him that I was more interested in the platform and he explained that they were finalizing how they would work with this product. Custom, pre- made sizes etc. He offered of course to make me a pair to size but since I was not sure whether I would keep them I did not want to make him do that or purchase something I wasn't sure I wanted. We concluded that using the 4-inch EVP's under the speakers would show me what the platform would do and if I was happy, we could accomplish this in a few weeks. I received the package and installed the products under my speakers and did a little experimenting as to how I used them. I installed them and turned the system up to let it cook a bit and I went out to lunch. I returned and latter sat down to see what was happening. At first, I must admit I was confused. There was something happening that was beyond what I had expected. I played a bunch of things in a short time to make sure I was experiencing what I thought I was. I walked out of my room and went and asked one of my friends that was here to come take a listen. I did not tell him what or why just come listen. He has heard the system many times through the process of set up and tuning. We listen in the dark just because that is what I do. In about 2-3 minutes he asked me to turn the lights on because he wanted to see what the heck was going on.



So here is where I am at. I called Norm yesterday and asked him to send me some more to install under my power amplifier, DAC and Pre-amp. I am trying to find the words to explain what I am feeling and what I am hearing right now before I try part two of the experiment.