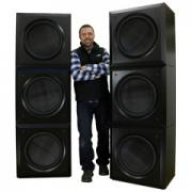 WBF Technical Expert (Speaker & Acoustics)
May 21, 2010
355
74
435
44
I thought I'd start a thread where we can collect some questions, discussions and thoughts on the deep end of the spectrum many know me for.
First and foremost, while you always need to listen and check you haven't missed something audible obvious, in small rooms, if you aren't measuring, you're guessing. I'll add to a list of various measurement systems and links in this thread over time.
Dayton OmniMic - Parts Express
Room EQ Wizard
Studio Six Digital's iAudiointerface
XTZ Room Analyzer
(list to be updated as time and info permits)
I don't intend to promote one over the other, but see all of the options suiting the preferences of different users. What ever system gets you measuring your system consistently and reliably is the way to go. Without it, you're at best making educated guesses.
For those who have seen me hunched over a computer at some audio gathering or installation, you would have seen the TEF25 system I use. Frankly I don't recommend it as an easy option for anyone who isn't doing loudspeaker development or commercial sound system setup. I myself have managed to figure out the system over the years and attending multi-day workshops. The TDS measurements do offer some useful qualities, and I use multiple platforms for different tasks.