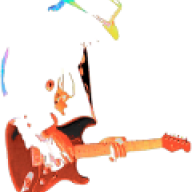 Member Sponsor & WBF Founding Member
While my recent Record Store Day outing suffered from a massive disappointment with the long-awaited
John Lennon: Imagine 40th Anniversary
boxset, this Eric Clapton 2010 vinyl release from Vinyl Passion, pressed at DMM Cutting in The Netherlands more than made up for it.
I'm a pretty big Eric Clapton fan, but this concert recorded on December 4, 2001 at Budokan in Japan went completely unnoticed by me. So when this 2LP set caught my eye I , without even a blink or a wink, I grabbed it. Driving home I had visions of wasting $35 on a recording that was unknown to me, but the deed was done and I hoped for the best.
I got home a few hours later, after a long afternoon with
Rob
(member
ptplayers
) and was really too tired to cue it up for a serious listen, so I played some
Robin Trower - Caravan To Midn
ight and
Phoebe Snow (self-titled)
instead to unwind while consuming a lovely dinner of Thai Peanut-crusted Chicken Breast with roast potatoes (sorry guys, I'm not a fan of rice).
Here we are, a week later and I finally managed to free up some time for some serious vinyl appreciation. I cued up Side 1 of Disc One ( I always play my records that way) and well...I was completely taken when my tonearm reached the deadwax. "Reptile" (cut #2) is as "jazzy" as I've ever heard and this seems to set up a lot of the other cuts as well. There's more of a world sound to the performances and it's completely different from what one would associate with his more known or common style. "Hoochie Coochie Man" (Side 3 - Disc Two) is an absolute delight and segues itself into "Five Long years" most naturally.
I'm no writer or reviewer, but this 2Lp set surprised the hell out of me with the quality of the performances and the quality of the physical product. Very quiet, wonderful dynamics, decent presence...a real delight.
Eric Clapton: Live At Budokan
Recorded December 4, 2001 at Budokan, Japan
Disc 1 - Side 1
Key To The Highway
Reptile
Got You On My Mind
Tears In Heaven
Layla (acoustic)
Bell Bottom Blues
Disc 1 - Side 2
Change The World
River of Tears
Goin' Down Slow
She's Gone
Disc 2 - Side 3
Badge
Hoochie Coochie Man
Five Long Years
Layla (electric)
Disc 2 -Side 4
Wonderful Tonight
Cocaine
Sunshine Of Your Love
Over The Rainbow