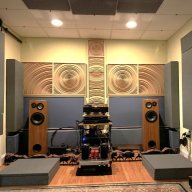 Jul 31, 2015
1,126
640
445
70
Interesting articles (link below) from DHDI's Hanson Hsu which provide more insightful and elegant explanations of acoustical concepts that have been debated in some WBF threads, and a clear comparison and contrast between traditional and "quantum" acoustics:


Haven't seen this explanation of how the ZR ( Zero Reflection) panels work before:

"....Air is forced to stop being a medium for the sound energy by forcing air molecules to behave as individual particles and not in groups as a wave. Hence, sound ceases to exist because it has no medium to travel on. Wherever applied, quantization is an acoustical cloak which removes the ability of the material surface beneath it to affect sound....."
Last edited: