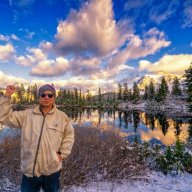 Dec 9, 2018
1,478
1,311
245
63
My endgame speaker will be vintage Western horn.
I had listened to Western horn sytem of Mr Chung, owner of Silbatone around 20 times at his home in Korea.
But unfortunately it is very hard to get Western horn sytem in good condition.
Also they are very costly 200k$ and up.
Now I have four sets of excellent speakers (Scaena, Altec, Lansche, Vaughn Cabernett).
I had lived with Lansche 4.1 from 2006 to 2021.
It give very pristine treble due to plasma tweeter and reasonably deep bass and dynamics due to two 10 inch active drivers.
It may be better if this speaker find more time of playing at someone else's home.
But since I had used it for 15 years, I may want to keep it as my lifetime souvenir.
Shall I let it go or keep it for my lifetime so that my son will sell it as estate sale in the future.
This is a sound from bi amped (using active crossover) Altec A7 augmented by two Scaena 18 inch subwoofers.
After I got Altec A7, I got enamored by live and realistic dynamics of it.
It also give lot of details.
Thus I switched from Lansche4.1 to Altec A7 on 2021.
But after I started playing Scaena 3.2 on 2022, I got astouned by wide and deep soundstage and no distortion out of it.
After adding pair of Rel 31 subwoofers, it sounds aplomb.
Scaena also play vocal music with nuanced details.
Thus unlesss I get vintage Western horn system in the future, Scaena 3.2 augmented by Rel 31 subwoofers will be my temporary end game speaker.
But I also plan to play Altec A7 and Lansche 4.1 after setting them as second system.
They also have lot of good things giving different kind of flavors.
Last edited: