It's Christmas in July!!!
My Ultra 9's were delivered by Leif and Damon earlier this month. Since that time, I have been hunkered down in my theater every available free moment so I'm finally getting around to posting.
My previous system consisted Von Schweikert VR-9's driven by a VAC PHI Beta 110 integrated amplifier. My front end was a Kaledeidscape server with a Theta Gen VIII DAC. I used Analysis Plus interconnects and speaker wires. I listen primarily to digital but had a Rega planar 10 on board for those times when I listen to vinyl.
Since I wanted to upgraded my speakers, I felt it was time to update my 13-year-old system. I relied on guidance from Leif and Damon to help me piece together my new system. These guys were tremendous to work with and helped me to get to my current system with NO drama. I can't thank them enough for holding my hand through this entire process.
My current system is completely new with the exception of the Rega.
Speakers: Ultra 9's
Amplifier: VAC Statement 450S iq
Pre amp: VAC Master Line Stage
Phono amp: VAC Renaissance Special Edition
Digital: Aurender N10/Aurender ACS 10
DAC: Lampizator Golden Gate II
Interconnects: Masterbuilt Ultra ( Reference cables for phono preamp)
Speaker Cables: Masterbuilt Ultra
Power Cords: Masterbuilt Ultra
Racks: Critical Mass/Audio Vault
Footers: Center Stage (under all components except Rega turntable)
My system has been in place for 2 weeks and is still breaking in. It just keeps getting better every day. I couldn't be happier with the finished product. I'm not as eloquent as Jack, Ron or Steve but I'll just say I love it!. Big soundstage and very musical. 3 hours seem like 30 minutes. Non-audiophile recordings are the most fun for me. I'm hearing things in those recordings that I never heard. My wife will be out of town for the next 3 weeks.........I'm moving in to the theater. I may even skip work too.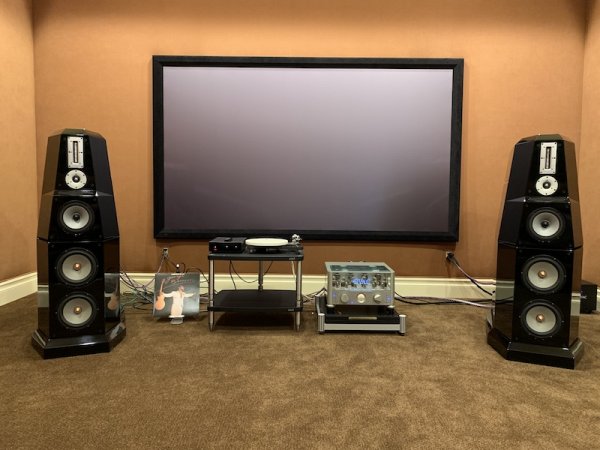 The OLD: