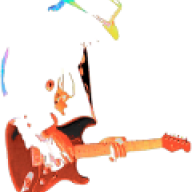 Member Sponsor & WBF Founding Member
Hi,

I have a Nottingham Analogue TT that has a low-torque motor, which is always on. There is no on/off switch and only requires a fairly gentle push of the platter to bring it up to its proper rotation. I have always found, and still do, that it's speed accuracy was very good and consistent. Of course this is only my assessment from listening to it, as I have no tools or other items to check for true accuracy. In listening, for instance, to APP-I Robot on vinyl and FLAC I can detect no difference. I have done this exercise several times in the last number of years.

Today I found an app on the Android Play Store called "RPM Calculator" and I downloaded it. It's very simple to use. Start the app and place it on your TT. Start your TT or in my case push the platter clockwise to bring it up to speed, which literally takes only a few seconds. The app then starts displaying the RPM it senses and hopefully it registers 33.3/45RPM with no variances as the platter makes each turn. My results are as follows:

33.3RPM: It consistantly indicated 34.4RPM with no variances. It was constant at 34.4RPM.
45RPM: The speed had variances and registered 46.2 and 46.1 per rotation. At about every third rotation it would briefly register 46.0 RPM.
* Each format was tested 3 times and for one minute and the results were identical.

The variances in the 45 RPM test have me somewhat confused. It measured speed changes within a rotation and then a different one for a split second on every full third rotation.

I have no idea how truly accurate this type of phone app is, so I'm not overly concerned, but I would love to hear some input from you guys.

More importantly however, and take away the app, is there an acceptable variance allowance for speed or MUST they always run at their designated speed? Is this even possible?