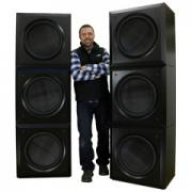 WBF Technical Expert (Speaker & Acoustics)
May 21, 2010
355
75
435
44
Hi all,
Business and life have been a bit hectic the past few months, and I haven't had time to put complete thoughts to screen here worthy of some new topics or expanding further on past ones.
Having just returned from calibrating a system using a Dolby Lake Processor controlling 2 of my SubMersive HPs, 4 of my powered Sparks as surrounds, with TAD Reference Ones for L/R and a TAD-CR1 for center, I am thinking a thread on "How to optimize a multi-channel speaker system" makes a lot of sense. I'm going to start with the process, goals and concepts so all can read it clearly, and then we can go on and on regarding the different methods and tools to get there.
My own product designs were very much born from my experiences while optimizing so many varied systems and attacking some of the most commonly encountered limitations which I didn't feel were well served. I'd like to get a few other discussions gestating, and I much prefer interaction with all of you rather than one way publishing, as the clarification and Q/A process tends to create better explanations and more clarity to all, not to mention being much more interesting to read than me just rambling on for pages.
What other topics and what questions are of interest to the membership here? I'm open to all suggestions and will pick those I feel I can contribute to. I do see many debates on the forum that relate to blanket descriptions of design types and how they integrate with others. These could make for some fun discussions as well, where it could be very useful to examine some popular assertions and break down some of the root causes rather than the assumption that say "large woofers are sloppy."
Thoughts?