I want to extol the amazing sound quality of recordings from the Nonesuch series called "Spectrum New American Music". These recordings from the late 60's and 70's, of contemporary classical music, are really quite a revelation. And considering they were originally released as budget recordings, is even more impressive.
They feature composers like: Elliott Carter, Jacob Druckman, Stefan Wolpe, George Rochberg, and other composers typical of the mid 20th century. In other words, some pretty 'thorny' sounding music. So, YMMV as to whether you will enjoy the music on these. Since my tastes in classical music is almost exclusively from the mid 20th century to contemporary periods, these are right up my alley.
They are universally very detailed, have a spacious soundstage, and have some pretty amazing 3d imaging.
The covers all look like the following (different images and text, but same layout), so, you might be able to spot them in the used rack.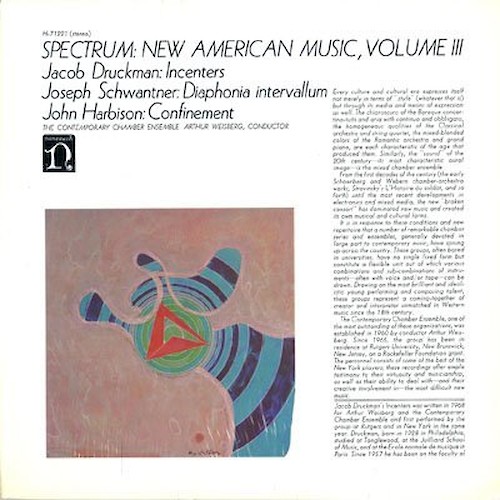 A few years ago I was talking to Peter McGrath after an Wilson audio event at Sunny Components in Covina Ca, and I brought these recordings up to him, and his face lit up. It turned out, one of his recording mentors was the engineer responsible for these. He said something to the effect of, "these budget recordings are a real indictment on the quality of modern recordings".
If I am evaluating new equipment, especially imaging and soundstage, I will almost always include one of these recordings.