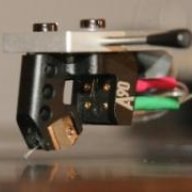 VIP/Donor & WBF Founding Member
Strange, but as it turned out, the 4-member WBF Boston Group met, for the first time in full body at any one of our homes, at my place yesterday, for an in-depth audition of the DMA-500ARs, new electrostatic panels and electronics, and some other tweaks, like my custom turntable platter interface described
here
and further undisclosed tweaks on the already-modified Alpha DAC.
From the left: Madfloyd, Al M, PeterA, and the host (having gained a bit of weight lately)
While patiently waiting for 6 months to get new panels from Martin Logan, I had been silently working on the bass drivers' crossovers again, subwoofer integration, and reduction in distortion. The DMA-500s mandated these changes to try to get the best out of them, at least in this system.
None of the guests knew what to expect, because no one had heard my system since before the arrival of the 500s and subsequent tweaks, and a couple of the guys had not heard the system for probably a couple of years, if not longer.
DIGITAL
: Let me start there first. The 500s are so revealing that I had to do something more to the DAC; so I've made more modifications to the analog section, and at the same time, I experimented with the digital volume control again, plus running it through the 30SV's balanced-in module, which Keith Johnson says it was designed for digital (whatever that means). Whatever it does, it works.
ANALOG
: Ever since I shielded the power umbilical cord of the Pass XP-25 in recent months, the noise floor dropped dramatically in that unit. And that aforementioned platter interface (a sandwich of
Sorbothane/SPEC+ AP-UD1/Isodamp C-1002
) has been responsible for a significant drop in rumble and increase in midrange clarity and resolution. It is so effective that tapping hard on the LP while playing produces very little feedback - probably my most significant invention so far.
MARTIN LOGAN PANELS and ELECTRONICS
: The replacement panels are definitely more rigid than the originals; the new power supplies I also installed clearly dropped the noise floor a bit, reduced distortion quite a bit, and the new step-up transformers added more clarity and body - yes, I A/B'd freaking transformers at least three times, and the new ones are just better than the original... what a pain.
The DMA-500AR + 30SV
: This Super Veloce technology from Spectral, embodied as custom transistors and everything around them, works and works wonders. The amplifiers have slew rates surpassing the preamp's.
SPEED KILLS?
Yes, it does. When not handled correctly, it can be audibly fatal. Only after all the other system changes described herein did I get the Spectrals to really sing - they are ruthless, and jaw dropping at the same time.
HOW FAST CAN YOU GO?
As fast as possible. When it works, it can be thrilling. I continue to be fascinated by the A90's speed and accuracy, but more importantly, just how fast the Alpha DAC can be, and to what levels one can take it. At the same time, I have come to love this modified XP-25 phono, which is as fast as everything else.
THE SOUND:
We played a variety of recordings, starting with direct-to-disc. Perhaps the guests will offer their own opinions, but I believe we all felt that the dynamic headroom from these amplifiers came shining through; really impressive dynamics. The clarity of attack and decay, and of the entire presentation, was off the charts - both analog and digital. The level of articulation and timbral accuracy also very high. Comments like "very impressed", "so clear" and "so articulate" were not infrequent.
I personally thought analog had more body than digital, but digital was not far behind in anything. I also think HDCD in here sounds as great as analog, and that's a major achievement for both.
I'll just post a quote and picture that Madfloyd sent us:
I've never heard digital sound so good!!!???

JAW DROPPING?
I'll let others speak to that, but I'll just say that these DMA-500 Anniversary Reference monos have LIFE. The noise floor is so extremely low that I can't detect any grain or other artifact. The sound is so coherent top to bottom; the bass is extremely well controlled. Timbre and Articulation - my main goals - are in full swing. There is tremendous ease and control of the music up and down the entire spectrum. At the same time, I am certain this system doesn't do them full justice either, and would love to hear them in a mega system. One thing's for sure, at the dealer's using the Magico M3s, they sound nothing like what we heard in here yesterday.
KUDOS TO SPECTRAL
: Yeah, IMO Keith Johnson's creations are masterpieces; but so are other products. I believe these amplifiers will stand the test of time quite well. But as everything else in audio, there will always be something better 5-10 years from now. Meantime, impressive and inspirational work! I had to end the audition with a 99-point wine, worthy of these electronics.
-ack
Last edited: