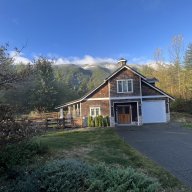 Member Sponsor & WBF Founding Member
over the last year Joel Durand has brought over prototypes of a record weight he has been working on a few times, trying various designs and various materials. as i understanded it; his intentions were to make sure that this record weight would 'subtract nothing' from the performance and 'to guarantee that the record is in the best contact with the platter'.

i think he has succeeded in his efforts to build a record weight that only helped. and yesterday he delivered my new Durand Record Weight.

up till now i have had three choices for playing records on my NVS turntable; nude, with the NVS clamp and spacer, and with an Extremephono mat. all three approaches are good, but of the three i have preferred the Extremephono mat, which is 2 part.....a carbon fibre upper and foam pad lower. and i have been quite happy with the mat. it was the most lively and focused of the three approaches.

i own one other tt weight (Thorens Stabilizer--really sucks!) and have tried many over the years and never have liked any of them. 'nude' has always sounded best to my ears...until now.

the Durand Record Weight adds focus, energy and naturalness. i love the textural detail, the added snap and leading edge definition, while adding naturalness and never sounding brighter or edgy. it adds body and harmonic richness to all the tiny details, fleshing them out. i think it does this by removing resonance from the record. Joel left yesterday at 4pm and i continued to listen until 1am, then was listening again this morning. i love it when every record is newly better in a good way.

i would characterize and quantify this change as a small (not tiny) effect with large consequences. when you are already at high resolution something that makes peaks more natural, or focuses vocals better, or defines bass notes better, or simply gives you more a sense of musical flow, has lots of value even though it is subtle in degree of change.

i can only comment on how it works with my Durand Telos tonearm with the Ortofon Anna cartridge on my NVS turntable; i've not tried it on other set-ups.
Last edited: