lately I've had a bit of action around my place, with new amplifiers (ML3 and VAC Statements) and Ron Resnick's visit. then last week Ed Hsu of
Taiko Audio/SGM
spent 3 days (Wednesday, Thursday and Friday) at my home. mostly I was gone to work and Ed was there working.
Ed visited to (1) convert the stock TS-150 and TS-140 Herzan's to the Taiko Tana top plates and remove the internal SMPS's, (2) add one more Taiko Tana Linear power supply, (3) to convert the now -3- Taiko Tana Linear Power supplies to the new 'Evo spec', and (4) introduce the new Daiza Panzerholtz plinths. the top plate conversions, and 'Evo spec' upgrades to the Linear Power Supplies was a big job and took most of the 3 days (when I got home from work we listened to that days work product). Ed also brought a suite of special vibration measuring devices and spent some time with those.
when Ed arrived i had 4 active units; a stock TS-140 sitting on my barn kitchen table unused, a stock TS-150 under the SGM server, a Taiko Tana TS-150 (under the dart pre) and TS-140 (under the NVS tt) each with a Taiko Tana LPS. also i had 3 panzerholtz plinths; one each under the TS-140 and TS-150 and one under one of the LPS's. now I'm using 4 active units; all fully Taiko Tana top plated, with 3 now 'Evo spec' LPS units (i switch one when i go from digital to vinyl until the 4th LPS arrives). sorry for all the detail and realize you might need to read it a couple times and look at the pictures to digest it. short answer is that now all my front end electronics and tt except the 2 power supplies of the MSB Select II are on SOTA active devices.
Evo Spec had been developed about 2 months ago with significantly better anti-vibration sonic performance on analog and digital electronics, but how would it perform for the Tana under a NVS turntable?
Wednesday night when i got home, two of the LPS's had been converted to 'Evo spec'. we connected both of those to the already Taiko Tana'd top plated TS-140 and TS-150 and listened to vinyl. i want to be objective here and just say there was a solid noticeable improvement in the performance. specifically more focus, cleaner, noticeably greater dynamic contrasts, more expressive, and greater tonal richness. interestingly since the dynamics were increased it was louder and more lively. i saw higher peak wattage for the same volume points (less smearing...rounding off peaks). i also noticed that on musical peaks things were all the way sorted out and it changed my reference for how some familiar pressings can sound. i used the same recordings i had used with Ron Resnick; specifically the Classic 45 4-disc of Mussorgsky's Pictures, disc 4 'Great Gates', and the Classic 45 disc 2 of Scheherazade. there were others, but these were enough to confirm the step up. these areas of performance were already at reference levels, so to get any improvements was impressive. we listened to a number of vocals, Jazz (Mallitoba Spank), and some rock. but more than the objective areas of clear improvement was the increase in calmness, ease and refinement which translated into a very beguiling and compelling musical experience.
Thursday night when i got home Ed had converted the stock TS-150 to full Taiko Tana top plate, and the 'Evo Spec' to the 3rd LPS. so now we inserted the Taiko Tana top plated TS-150 under the MSB dac box and then listened to this with dart pre also with Taiko Tana + Evo spec LPS. now this was a huge step up, since this was the first time i had had active under the MSB dac of any kind. wow. Ed had told me that dac's showed the biggest result from Taiko Tana treatment and he was right. we both listened to our reference tracks, and there was so much more space and rendering of delicate detail that it was spooky. I'm going to stop there and come back later to this subject.
Friday night when i got home Ed had completed the TS-140 top plate and so we did add that to the mix under the SGM server (needing to switch the third LPS unit from the tt to the SGM) and there was a further boost. and there is lots more details i will get into further in future posts.
on Sunday i did ask Jazdoc to visit just to give me some feedback. i won't speak for him at all.
16 years ago, in 2002, i first heard a Halyconics active device in my room. i had the passive air suspended Rockport Sirius III for 9 years from 2002-2011. then in 2013 i bought my 2 Herzan units. lots of promise from those products.
that promise is now delivered.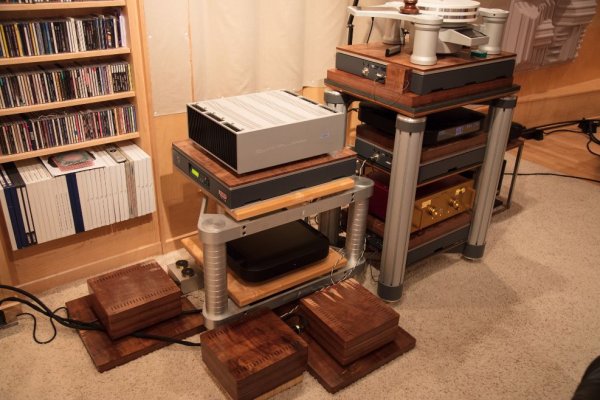 Last edited: