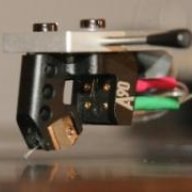 VIP/Donor & WBF Founding Member
I posted earlier on
http://vpiindustries.com/forum/viewtopic.php?f=12&t=7884
the following:
Hi,

I want to stabilize my 10.5i arm because the wobble is sometimes too much to bear. For that, I was thinking of attaching two small neodymium 1mm-thick magnets at equidistant opposite ends around the pivot axis - like under the balancing "ears" of the wand, or even closer to the pivot axis, like under the round part of the wand - which would then equally attract either a washer (or any ring) glued or otherwise attached to the metallic base right under the magnets. I have measured the polished round base of the bearing itself to be 20mm, so I was hoping to find a 21mm inside-diameter with up to 1mm thickness magnetic ring or washer, but have had no luck with that type thickness or getting such a magnetic ring (on the other hand, 21mm inside-diameter is easily sourced from grainger.com).

Has anyone, or even VPI, done anything like this? I can easily source the small magnets (3mm round x 1mm thick) or even magnetic tape with adhesive, but I cannot find any magnetic ring or steel foil tape, though I can get foil tape any thickness I want from tapecase.com (but it's not magnetic), and I can only find stainless steel washers 3mm thick or more and I believe they are non-magnetic either.

There's got to be a solution to this???? There have to be 1mm thick magnetic washers somewhere, but everything I've found is some 300-series or similar austenite stainless steel version which are all non-magnetic????

Regards

-ack

PS: By "magnetic" I mean the ring/washer/foil would be attracted by the neodymium magnets
It just occurred to me that mu-metal, which I am using elsewhere for shielding, is partially magnetic and very thin, thus could do the job, and comes with an adhesive back... so stay tuned.
Meantime, if anyone else has any other suggestions, I am all ears.