This weekend I had the pleasure of having Edward of Sound Test / Sound Galleries Monaco as my guest.
Edward is a truly nice guy and we had a good time listening to music and talking all things audio.
He brought along his T+A DAC8 DSD, because sadly my loaner is gone again and my resident Lampizator L4 isn't back from service yet. Together, we schlepped the piece of interest from his car to my flat, a SGM 2015 in black.
This thing is a beast, being as heavy and as big as my former Gryphon Diablo amp!
Casework and build quality is exceptional, with massive heatsinks and very good cnc work.
First impressions are this must be a very powerful amp – yet it is just a computer.
Calling the SGM just a computer however is a huge understatement. Kind of like calling Miles Davis a mere trumpet player. Almost everything inside is custom made, featuring an OCXO with of magnitudes better precision than the stock crystal oscillator used on commercial motherboards.
I had the chance of comparing the SGM with my CAPSv4 Pipeline over a total of 48 hours and I very much took advantage of this opportunity.
My CAPS is pretty much the standard v4, except the case (HDPlex), the CPU (xeon 1265L) and the USB Card (Paul Pang V2). The only real sound altering variable here from a standard CAPS v4 should be the Paul Pang V2 Instead of the SOTM card, but I consider both USB cards to be on the same level.
My CAPS has for OS WS2012 with AO optimization treatment.
Edward also brought his Sablon Panatela USB cable which was used for the test. It is a very good cable and definitely superior to my Aqvox.
My system consists of a pair of MBL 116 omni directional speakers paired with a Gryphon Antileon Signature amp, wired with Gold Note Extra, Vibex power filtering and modded Entreq grounding. The room is quite small, but with Acourate room correction integrated in HQPlayer, this is a minor issue.
We loaded my filters on the SGM to have equal conditions for both contenders.
Edward was positively impressed with the result Acourate had on the sound and mentioned, that especially omni speakers seems to benefit from DRC. I think so too.
Of course on both machines we used the same filters and modulators in HQPlayer as well.
It took some time to fully appreciate the differences I heard between the two, I will save you the time to read about the developement of my impressions, and focus on my final findings.
First thing that struck me by surprise is that the SGM sounded quieter than my CAPS.
Normally you would assume that the louder unit is preceived as the better one.
Well, not here and if you think about it, it makes sense.
It sounds quieter because of less artefacts / noise that seem to make the music louder but actually have nothing to do with the music itself.
Funny thing is, you only notice them when they are absent, a common finding in every component category. Sure a sign of good engineering and noise control.
Further, the sound is more relaxed and therefor also more relaxing. I tended to listen longer with the SGM than with my CAPS. Sign of less fatigue.
With the SGM the soundstage width seemed smaller at first, later I realised that it was definitely more natural and realistic this way.
Vocals lost some pounds in sheer size, but gained in definition and expression and also impact.
My CAPS seemd a bit bloated in comparision and definitely less natural.
Coherence was a word that often came to my mind. I didn't find that I gained more resolution, I didn't hear new things like when I switched from my former Acer to the CAPS.
But the musicians seemed to play better together, the sound was more wholesome and voices gained in what I would call personality.
This was particulary aparent with René Marie's track "come on in my house" from her Eartha Kitt album (which is fantastic by the way). Her voice was much better integrated in the soundstage and the rattle noise in the left channel was reproduced far more accurate.
You could almost pin down which kind of metal was used for this, impressive.
I couldn't really detect a difference in depth, but this may well be due to the size of my room and the omni nature of my speakers. They provide a really good sense of space overall, but fail to resolve the tiniest and finest spacial informations like direct firing speakers can.
For me this is no downside at all, I love the MBLs.
For example I have never heard Hugh Masakela's coal train better than here with the SGM (and I heard this track on all kinds of systems).
This is exactly the kind of music you want to hear with these speakers and the SGM served them really well.
Although I would consider my system as quite good in resolution (Edward said, it was the best he ever heard MBLs sound), the MBLs are no magnifying glasses as others are. I'm sure that systems of even higher resolution and in bigger rooms would resolve even more differences.
Now the 16.000€ question: Am I buying the SGM for my system?
No. But this sure has nothing to do with the SGM itself. I told Edward upfront that I currently don't have the means nor will in the near future. However he wanted to come by anyway, wanting to hear the MBL's, the quality of the job Acouarte was doing and to hear the Gryphon operating in pure Class A mode, awesome!
To put things in perspective, how much better is the SGM over the CAPS?
I think I found a good analogy:
Before the CAPS I had a standard Acer Revo desktop PC as a source with no treatement / upgrades at all (except a REGEN).
The jump in sound quality from my CAPS to the SGM is as big as the jump in sound quality going from my Acer to my current CAPS.
When I told this to Edward he was very pleased and I think he has every right to be.
Everybody who made this step (I guess many) knows just how much of a jump this is.
Of course, the first step is roughly a 2400$ difference, the second considerably more.
But this is the nature of high performance audio. The last percentages of improvement are the toughest and most expensive ones.
Hats off to the SGM team for making the best digital source that I am aware of and thanks for this opportunity!
and by the way: the T+A is an awesome DAC and will most likely be my next.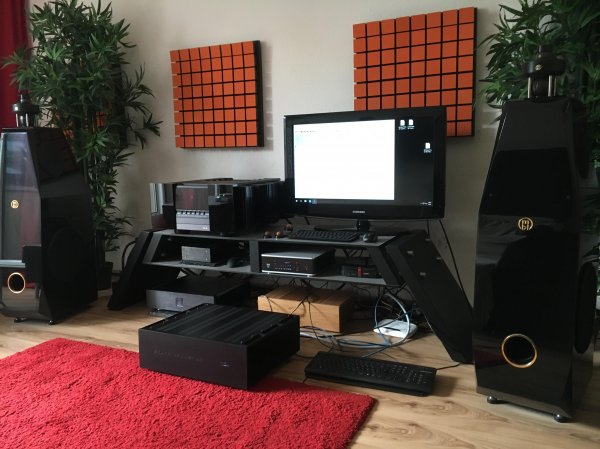 I added a picture, lots of cables, routers and keyboards which are normally hidden.
The SGM is the big black box on the floor, the CAPS is located beneath the rack on the left.
Christoph
Last edited: