Was that title too click-bait? If you think so I apologize but thanks for stopping by
As many of you know, I'm not as active on forums as perhaps I should be. That said, a number of things have happened in the last few weeks that some of you may find interesting.
First off, we're very honored to share that our flagship
ULTRA 9
loudspeaker ($225K MSRP) was awarded the
Outstanding Overall Performance Award 2021
by the prestigious Hong Kong magazine
Super AV.
This award would not have been possible were it not for our distribution partnership with the team at
Wise Sound
and their carefully considered introduction of the Von Schweikert Audio brand into the Hong Kong and mainland China market.
For those unfamiliar with this model, here's a video from the last Munich High End show back in 2019.
Then yesterday, we received the news that our
Endeavor SE
loudspeaker ($25k MSRP) was awarded the coveted
2021 Product of the Year
by the leading magazine in Hong Kong,
HIFI Review
. This is of course thanks in no small part to the skillful introduction of our current design offerings by our friends at
Wise Sound
.
Frankly, the Endeavor SE is a design that always impresses me and I can't express how proud I am to produce it. But continuing in this vein of frankness, I know I've done a terrible job of introducing it to the world. Coulda, woulda, shoulda, it deserves better from me. I say all this to express how shocked I was; perhaps more so than anyone else, that it achieved this level of recognition from no less than
HIFI Review
. And I had nothing to do with it. I didn't arrange for the review, I didn't even assist in the setup of the speakers... this was completely unexpected and as such, I could not be more tankful to our partners at
Wise Sound
for all their effort on our behalf.
And for those unfamiliar with this model (in large part because of me
here's a video tour of the Endeavor SE in this striking McLaren Volcano Orange finish. Enjoy!
Last but certainly not least, I'm very pleased to announce we will debut our newest addition to our flagship lineup, the ULTRA 7 next week at the
Florida Audio Expo
. We began development of this design in late 2019 and are conducting this shakedown cruise of the ULTRA 7 in Tampa in just a few days.
So what is the ULTRA 7?
First off, it's an ULTRA model which means it shares all the sonic and structural DNA of our other ULTRA reference loudspeakers. In this instance, it's simply a different configuration of those previous designs that hopefully will be the "sweet spot" for some audiophiles in performance, aesthetics and ultimately budget.
Here's what you get with the ULTRA 7.
Extremely low distortion, class-defining clarity, three dimensional image focus, and lush harmonic structure that defines these award winning ULTRA designs.
Our proprietary network topologies G.A.I.N. (Global Axis Integration Network) and A.I.R. (Acoustic Inverse Replication) which deliver our signature driver integration, holographic imaging, tonal accuracy and overall our award wining performance. What we call, The Sound of Reality. Please note, these network topologies have benefited from ongoing iteration for more than four decades of development.
Our ULTRA line of exotic drivers. Each channel of the ULTRA 7 design incorporates the following: Front Facing - three 9" reinforced Ceramic Woofers, one 7" reinforced Ceramic Midrange, one Beryllium Tweeter and one Dual Ribbon Super Tweeter. Rear Facing - one Ribbon Super Tweeter and one Magnesium Horn Loaded Tweeter combined into our Rear Ambient Array.
MasterBuilt Audio Ultra Line of internal wiring comes standard on the ULTRA Line. Each signal path is individually shielded and damped with point to point connections. Designed by leaders in the Aerospace industry and made with rare and precious alloys. It's simply the most transparent signal path we've experienced.
Point to point hand-built networks with isolated architecture that protects crossover parts and wiring from electrical noise contamination (aka distortion). In other words, we don't crowd all the network components for woofers, midranges and tweeters onto a small printed circuit board which looks very high-tech but ultimately creates distortion.
Version 2.0 Aktive Cabinet Vibration Control, eliminating cabinet resonances with new materials and layering techniques built on more than 25 years of iteration.
A full set of our new proprietary LS Footers designed by Critical Mass System is included for the best loudspeaker isolation we've ever experienced. More to come on this products very soon!
Time Alignment, Phase Consistency, and adjustable bi-polar sound radiation pattern for room-filling sound. The ULTRA 7 design achieve full-range response from 18Hz to 60kHz with 94 dB sensitivity @ 1w/1m.
Finally, our revolutionary Room Adjustment Control Suite. Our designs are 100% analog and are designed for reference flat frequency response shipped from the factory. Yet we understand the real world challenge of getting flat response and the various listening room environments. By utilizing our Room Adjustment Control Suite consisting of autoformers with induvial signal paths for each level selection, we can adjust the Main Tweeter, Super Tweeter and Rear Ambient Array independently by 1/2 dB increments allowing us to achieve much greater reference performance in your room than any other analog loudspeakers available. This is one of the key factors that has led to our unprecedent number of Best in Show awards over the years.
The ULTRA 7 at $180K MSRP firmly carves out a place between the very room friendly ULTRA 55 at $100K MSRP and the dominant ULTRA 9 at $225K MSRP and in my opinion, shares the most compelling features of both. The ULTRA 7 footprint and overall height is not much greater than the ULTRA 55 so the speaker will fit into even a small sound room very comfortably and yet, has the ability to pressurize a large sound room with little effort. But the ULTRA 7 benefits from almost all of the technology of our ULTRA 9 specifically in the Room Adjustment Control Suite. This allows far greater ability to achieve flat response even in the most trying room environments while remaining 100% analog.
There's certainly more to tell and we will publish more data on the ULTRA 7 in the coming months but for now, here are a few sneak peeks from our social media post of what's to come. If you made it this far, thanks for reading and all my best!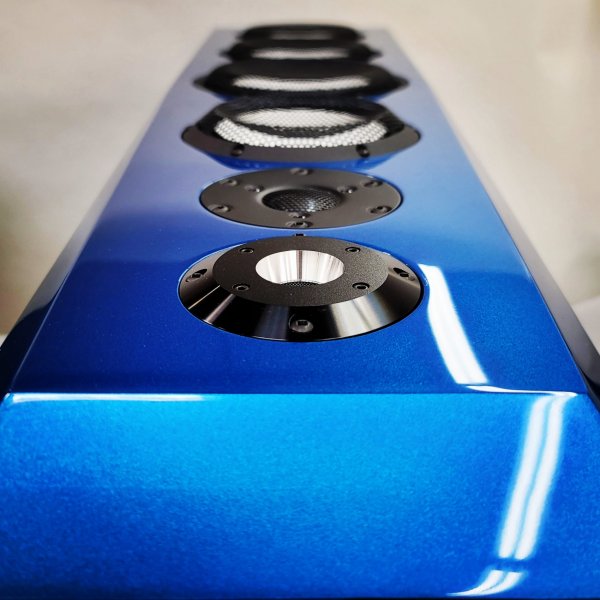 Last edited: