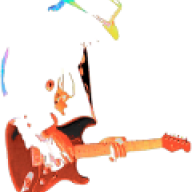 Member Sponsor & WBF Founding Member
I have been a fan of Serge Fiori since 1973 when he and his good friend Michel Normandeau formed Harmonium. That band only created 3 studio albums (and one live concert album) before disbanding. He then hooked up with Richard Seguin to record one more album (Fiori-Seguin) in 1978. After that he basically stayed very low profile and whatever efforts he put out are next to impossible to find and mostly unknown, unless you're a fan.

Last year came news that Serge was doing a brand new album, and the entire Quebec music scene has been waiting with much anticipation for its arrival. It has now just been released and shot to the charts in the #1 position immediately. The album has a strong Harmonium influence and Serge's voice, although matured, hasn't lost any feeling or passion. He still sounds great at the age of 62. The writing and delivery are first-rate and its a solid, solid album.

However, it is brick-walled badly. The CD comes in with an average value of DR6. Interestingly though, it still retains a really good feel and doesn't sounds nearly as bad as the numbers indicate. There's a good degree of "feel" or "warmth" that I perceive on several tracks. How can this be? And will the LP exhibit these same characteristics?

Do you guys have any examples of badly brick-walled albums that can still be enjoyed?
Last edited: