After so many favourable reviews, I decided to register and try Roon. Well, no piece of software has made me so angry for a long time. Here we go, by pictures:
This is how classical music fans sort their collections. I maintain this directory structure on my PC, and my CD's (all 4000 of them) are sorted on the rack in the same way. If it wasn't organized like this, I would never be able to find my music. Also, we listen to our music by album. I choose an album, and listen to it from start to finish.
I do not want some bloody Prokofiev violin sonata to start playing after one track of my Bach finishes!!!!
Even Foobar, a free app, is able to organize music by folder. Roon, which costs $499 for a lifetime membership, can't do it. WHY CAN'T IT BLOODY DO IT!
I won't show you the mess that results if you choose "Sort by Composer", because it also includes a whole bunch of non-composers which it thinks should be included. What's worse is that you can't delete these "Composers" to reduce the clutter.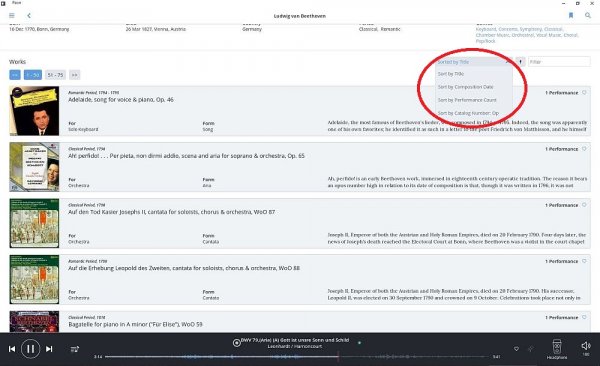 In this picture, I selected "Beethoven" to browse all the music that Beethoven composed. Note that in my directory structure, my albums are organized by "Symphony", "Piano works", and so on.
I would at the very least expect Roon to be able to organize all music by Beethoven by album. But no, as you can see from the drop down box, it is not an option.
What's even worse is that tracks from all my Beethoven CD's (all 200 of them) are jumbled in an incomprehensible mess. If you press "Play", you will hear a random assortment of tracks taken from various CD's.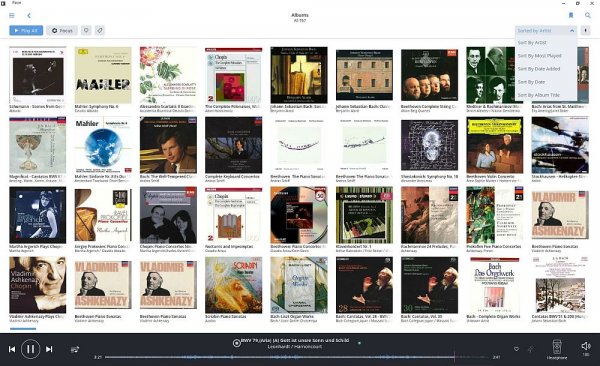 So, what happens if you try to sort the display by Album?
You are no longer able to sort them by composer!!!
. As you can see from the drop down box, it only allows you to sort by Artist and a whole bunch of completely ******* irrelevant fields.
By this time I was almost ready to give up. Suppose I wanted to listen to a Bach Cantata. I would normally walk up to my CD rack, go to the Bach section, go to the Cantata section, and choose the disc I want.
On Foobar, I would open the Bach folder, open the Cantata folder, choose which Set I want (sets are organized by Conductors), and then press play.
Type "Bach Cantata" into the search bar in Roon, and this is what you get. Good luck if you get to choose the right one by accident.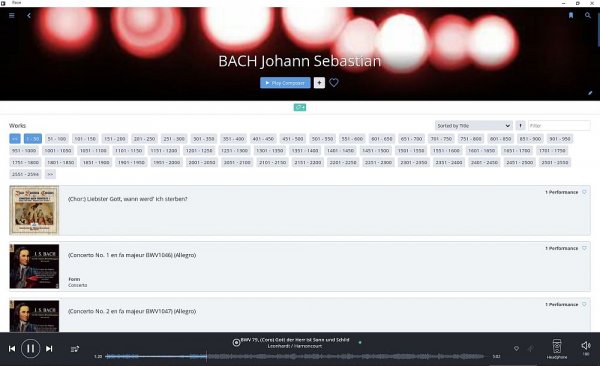 Another example of how unmanageable Roon is. Go to the "Bach" folder, and you are confronted with ...
2600 pages of cover art
. Yes, I have a large Bach collection. THIS IS WHY I ORGANIZE IT IN FOLDERS!!!
I don't want to create a stupid effing playlist, when the albums are already organized exactly the way I want it. NOBODY who listens to classical music will want to listen of one track of Wagner, followed by one track of Schubert, then Beethoven, and so on.
Message to the Roon developers: JUST ALLOW US TO ORGANIZE IT BY BLOODY ALBUMS!
Last edited: