I saw on the Sound Liaison site,
http://www.soundliaison.com/
,that they are having a sale this month on full albums (15€ - 20$) and that the Carmen Gomes album also is available as a Flac file now(12€ - 15$).
I am a big fan of this little Amsterdam Label.
Their albums, which they claim to be ''True Studio Master one to one Wav file Copy of the original Master File'' ( phew... long word) are truly exceptional.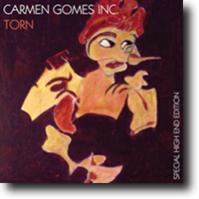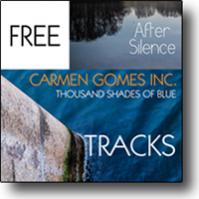 Here is the 'famous' SoundStage! review that made me notice the label.
I've been among the prophets saying that high-resolution downloads are the future of audiophile music sales. Surely it will benefit the majors to make high-quality downloads a first choice rather than an MP3 extra, but I believe that individual artists can benefit as well. Most new-to-the-scene performers have little money for middlemen and disc manufacture, yet can get things together for the Internet.

Frans de Rond and Peter Bjørnild have taken this approach with Sound Liaison, producing recordings available only in 24-bit/96kHz downloads that mirror the master recording. And man, are they ever sweet. I've seldom heard recordings that were so successful in both performance and sound aspects.

De Rond hails from the Netherlands, where he studied double bass at The Royal Conservatory in The Hague while concurrently studying recording techniques. Bjørnild also studied double bass, moving to the Netherlands to continue studies at The Hague. Since graduating, he has played almost every type of music, from classical to jazz. Together de Rond and Bjørnild bring two pairs of golden ears to their label. Bjørnild claims that, "a recording should be as realistic and beautiful sounding as possible. As if, when closing your eyes, you find yourself in the best seat in the hall."

The partners discovered a fine recording hall (Studio-Eleven, Hilversum) and set out to record amazing musicians in this great acoustic place in front of live audiences. It's a daring feat; one take and no place to hide, but the abilities of the musicians involved make it seem easy. I chose to talk about the first album by Carmen Gomes Inc. It was a tough choice because all of the three current albums were worthy of review.

Carmen Gomes has won many awards in the Netherlands and surrounding areas. Like so many new European singers, she sings in English -- excellent English, I might add. She's formed a group called Carmen Gomes Inc., with Folker Tettero on guitar, Peter Bjørnild on double bass, and Marcel van Engelen on drums. Her style is bluesy and intimate with a sexy voice that's sweet as dark tupelo honey, and her interpretations are unerring. The musicians play to her and to each other, and the ensemble is so tight that the four musicians breathe and move as one.

There are some standards on the set that knocked me over with their fresh approach. Any singer can misplace a few accents and rhythms and come up with something that's original, but perhaps also uneasy and a little strange. Not Gomes, who has taken the songs to their bones and then restructured them to suit her style. Thus "Fever" doesn't sound like a cover of Peggy Lee; it sounds like a brand new take on a familiar song. You emerge from hearing it not thinking it's better or lesser than Lee's version, but that it's a valid new interpretation that could have come first.

The same approach works on "Angel Eyes," "You Don't Know What Love Is," and "I'm on Fire." Most of the rest, including the title song, "Oblivion," "Time Will Tell," "Gasoa Blue," and "The Sea," are Gomes originals that fit right in with the standards. The recording achieves exactly what Bjørnild set out as his goal. It can provide the best seat in your listening room. Go to the Sound Liaison site, listen to a few samples, download an album, and see if you don't agree that this intimate effort is one of the best and best-sounding jazz vocal albums to come along in many a day. By the way, the small audience applauds enthusiastically enough after the last chords of a song die away, but the attendees never interrupt or make themselves known while a song is going on. No doubt they were completely mesmerized into silence, as was I.

Be sure to listen to: On "Dock of the Bay," Gomes creates a languid, bluesy version that is a little bit reminiscent of Bobbie Gentry while still coming across as quite original. It'll cast a spell over you.

. . . Rad Bennett
Last edited: